AMSA is No. 2, but what is the value of such rankings?
Hang on for a minute...we're trying to find some more stories you might like.
The U.S News & World Report high school rankings list–for those who put stock in such things–is one of the most awaited lists of the year. Advocates say it shows how far a school has come, how it compares to others, and how well it educates students.
AMSA was recently named the No. 2 public high school in Massachusetts, up one place up from last year, and it is ranked No. 98 in the nation overall.
"I hope this ranking brings pride to AMSA and inspires students to work harder and that they feel like AMSA is where dreams come true and they as students can keep growing," Principal Ellen Linzey said.
The way U.S. News and World Report ranks high schools is grounded in statistics. Specifically, it ranks based on a College Readiness Index (CRI) value of above 10. The CRI is calculated based on a weighted average of Advanced Placement participation rate along with how well the students did on those AP tests.
"Overall the 2017 Best High Schools state rankings are based on whether a high school is nationally ranked gold, silver or bronze in their state and has a CRI value of greater than or equal to 10," according to the U.S. News and World Report frequently asked questions section.
When AMSA fell to No. 3 in the commonwealth in 2016 from a previous high ranking of No. 2 in 2015, people wondered what had changed. Third was not bad, but what accounted for the fall?
The U.S. News and World Report says that statistics prove to be the tipping point between rankings.
"Some schools that were ranked in the 2016 Best High Schools rankings fell off the 2017 Best High Schools rankings list completely because they are no longer among the best-performing schools on their statewide tests–specifically, their overall student performance on state tests no longer exceeds statistical expectations," according to the U.S. News and World Report FAQs.
State and standardized tests are the most heavily weighted when rankings are determined, because they are deemed objective indicators of a school's success.
If a school's students are doing well on their standardized exams, then the school must be promoting academic excellence and must have amazing staff members to contribute to the high test scores, the thinking goes.
"Being ranked No. 2, parents will proudly send their children to AMSA with great expectations and high hopes for the future," senior Sakura Gandolfo said.
There are two problems, however: Test scores are not necessarily the best indicators of a school's (or students') success; additionally, as a school's ranking increases, so does the pressure to maintain it.
Community members who send their children to the school will expect nothing less than academic excellence and evidence verifying it.
"I hope prospective students strive and work harder when they are here," Mrs. Linzey said.
But statistics are a dangerous thing–numbers are, sometimes, just numbers. No one from the U.S. News and World Report has set foot in an AMSA classroom and assessed the institution as a whole.
It is not a holistic ranking in the slightest, making it, in a way, inaccurate. How can a school be accurately assessed without knowing a student's experience?
Test scores are a single, sometimes misleading indicator of success. The fact is that some students just don't perform well on standardized tests, while others do. Maybe they had a bad day. Maybe they do better, reliable, more complete work outside the bounds of testing.  
Recognition is nice, No. 2 is great, and testing is important–but those scores perhaps shouldn't be the sole factor in determining success.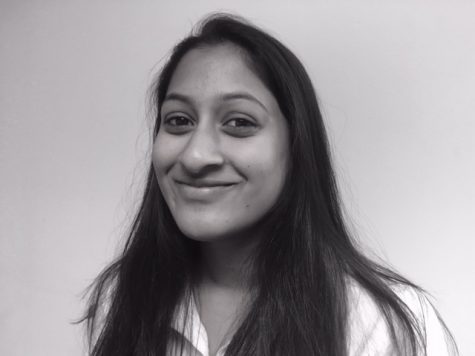 Jyotika Vallurupalli, Co-editor
Jyotika is a senior, and hopes to enjoy her final year at AMSA. She thoroughly enjoys speaking and having a spirited debate, which is shown in her passion...