Beyoncé's new album is a work of catharsis
Hang on for a minute...we're trying to find some more stories you might like.
Lemonade: what Beyoncé made when Jay-Z handed her lemons.
On April 23, Beyoncé released her new album, Lemonade, as well as a 65-minute film of the same name. This is the second straight time that Beyoncé has released an album with little-to-no advance marketing. The album is both a story of heartbreak and forgiveness, but also a story of black female empowerment.
In the visual album, she makes many connections to her African heritage and Southern culture. She also gets political by showing parents holding pictures of their children who were victims of police brutality, including Eric Garner, Mike Brown, and Trayvon Martin.
She shows off her versatility to emphasize her emotions. The album as a whole tells her story through pop, reggae, country, R&B, and hip-hop. It's not angry or bitter, but an honest way of expressing herself and being transparent and connected with her supporters.
The visual album is separated into 12 chapters that represent steps in a process of dealing with her relationship issues. Between each chapter she recites poetry from Warsan Shire's "Women Who Are Difficult to Love," "The Unbearable Weight of Staying," and "Nail Technician as Palm Reader."
Beyoncé calls out her husband Jay-Z for alleged multiple affairs through her lyrics. In the song "Hold Up," she says, "Can't you see there's no other man above you? What a wicked way to treat the girl that loves you." In "Sorry," she makes reference to a suspected mistress in saying, "He only wants me when I'm not there, He better call Becky with the good hair," along with countless other allusions to their relationship.
Beyoncé uses her personal situation to make art. Taking some influence from the five stages of grief, each song represents its own stage of her personal grief.
The album opens with the song "Pray You Catch Me," which addresses the stage of being skeptical of her husband's extramarital affairs. The song is slow and calm, but a clear opener to her story.
She then leads into "Hold Up," which takes a more aggressive tone. The visual album shows her smashing cars and fire hydrants with a baseball bat backlit by explosions and eventually running over them in a monster truck. She takes inspiration from her Southern and African roots in both the rhythm of the music and her attire. The dress is styled after the Yoruba (people from southwestern Nigeria and Benin) goddess, Osun.
The next chapter is titled "Anger," and with it comes the song "Don't Hurt Yourself" featuring Jack White.  She asks Jay-Z, "Who the [expletive] do you think I is? You ain't married to no average [expletive] boy." A lot of times when women are cheated on they get blamed or even blame themselves. Beyoncé uses her album to empower women and make them see they deserve better in a relationship.
For Beyoncé to forgive her husband, she first had to forgive her father. In "Daddy Lessons," her father advised her to shoot any man who came around and was too much like her father. As part of the poetry woven between songs in the visual album, she says, "Do his eyes close like doors? Are you a slave to the back of his head?… Am I talking about your husband or your father?"
But then the tone shifts. As the listener enters the "Reformation" chapter and the song "Love Drought" starts to play, the mood of the album shifts from anger to forgiveness. The song is slow yet powerful and emotional. This song marks the beginning stages of when she and her husband began to build their relationship back up.
Beyoncé makes it clear through the visual album and the softening of the tone in the songs toward the end of the album that this was not a work of revenge. The last four chapters of Lemonade are titled "Forgiveness," "Resurrection," "Hope," and "Redemption."
Overall, the album has been received extremely well. By creating an album that almost everyone can relate to, she has connected to her audience on a personal level. Everyone deals with relationship trouble in their lives, be it infidelity or countless other things.
Beyoncé is able to frame the emotions in a way that enables us all to empathize.

About the Writer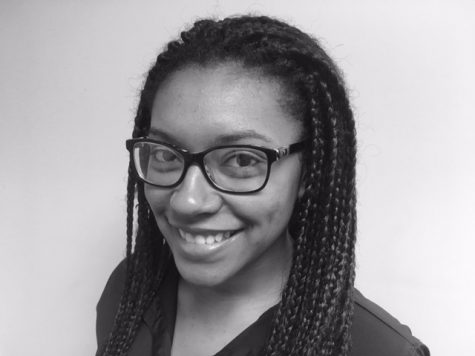 Coretta Granberry, Co-editor
Coretta is a senior and is in her second year writing for The AMSA Voice. Last year she served as the photo editor, and this year finds her as co-editor,...