Ending with a different kind of win
Hang on for a minute...we're trying to find some more stories you might like.
More in Sports
The realm of sports is flooded with a competitive spirit, as in the end only one team can truly call itself victorious.
For the AMSA varsity basketball teams, the title of Division IV champions was just out of reach when they made it to their respective playoffs and lost.
While they may have lost their playoff games, the Eagles collectively proved their mettle this season.
In the immediate moments after their seasons ended, the teams seemed sad to have missed out on a championship title, but looking back after emotions ebbed, they realized they had a great year even if they fell short of a title.
The AMSA girls had a spectacular season, ending with a record of 15-5 after a 50-29 loss to Millis on March 1.
"This season has been one of our best seasons," co-captain Allie McNamara said. "We are 15-5, when last year we didn't make playoffs. I think we've all grown this year, and this team really is family, and you know what? It [is disappointing] that we lost, but next year this team is going to come back fighting."  
It was not the first time Millis proved hard to beat. The Eagles started the season with a loss to Millis on Jan. 4. AMSA was hoping for a shot at redemption in a win-or-go-home showdown, but it wasn't to be.
The boys ended their season strong, with a final record of 11-9 when earlier in the season they had been the underdogs with a record of 3-8.
For them the rebound began with a Jan. 24 game against Keefe Tech. That kicked off an eight-game winning streak which finally ended with a loss to Nashoba Tech on Feb. 20.
"Overall for the season, I'm very happy with the way it ended up because we started 3-8 and we ended up going 11-9 and qualified for the postseason," coach Brian Sinico said. "That alone I thought was an accomplishment in how they responded."
The AMSA girls, after a highly successful conference campaign, simply ran up against a superior Millis squad with a long history of dominance.  
"Millis, if you don't know them, they won the state championship twice out of the last three years and a lot of times you look at our team, we're small and we look like a middle school team," coach Dennis Zilembo said. "You look at Millis, they're bigger, heavier, faster, quicker. […] Our girls, you know, they couldn't have played any harder."
As the season drew to a close, lowerclassmen realized that it was their last game with some of the best players they have ever played with. Seniors became emotional at the prospect of leaving.
Beyond wins and losses, they savored the chance to grow as people, with their teammates and coaches providing second families for them.
"It is really bittersweet to be leaving," co-captain Arin Smalls said. "I've been on the team since 8th grade. Playing [in that last game] really showed me how much this team has grown. The season was really great. Last year we moved up a league, but we didn't do so well. This year we made playoffs."
Rik Jhamb, co-captain for the boys team, had similar thoughts.
"Finally to be captain and a leader for my team was amazing," he said. "I was able to lead our team to a respectable place, even after we lost seven or eight seniors last year. Our team showed that we were determined to finish the season strong. To lead us to around the same place that we were last year meant a lot to me."
Growth and progress, not the win-loss tally, triumphed in the end.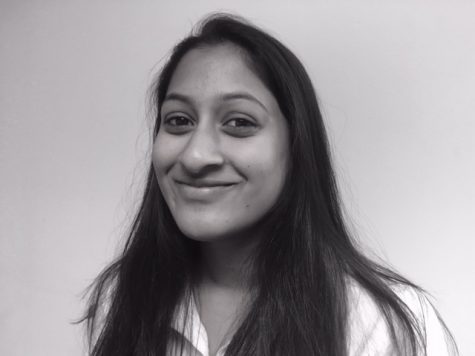 Jyotika Vallurupalli, Co-editor
Jyotika is a senior, and hopes to enjoy her final year at AMSA. She thoroughly enjoys speaking and having a spirited debate, which is shown in her passion...