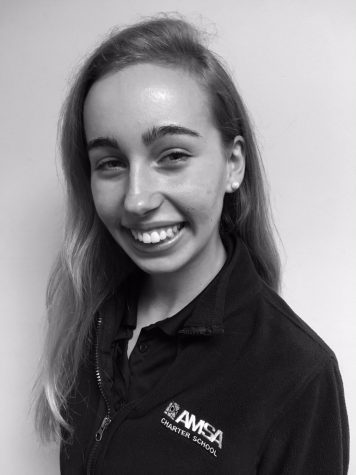 Christina, now a senior, seeks to further her writing abilities this year as a staff writer for The AMSA Voice. Although she aspires to have a career in the medical field as a dermatologist, she understands the tremendous value written language and communications have in our world today, whatever job one has. Reading and writing have always been of enjoyment for Christina.


Christina is extremely involved at school and in her community. As a member of AMSA's varsity volleyball team, National Honor Society, Technovation, JCL, Leaders of Tomorrow, UNICEF Club, and Ecology Club, she continues to prove herself as an active and well-rounded student athlete. Now in her 12th year as a Girl Scout, she recently earned the prestigious Gold Award, creating a program which teaches elderly citizens at a local retirement home how to operate computers and use social media. Part of both the school's yearbook and newspaper teams, she hopes to make her final mark at AMSA the best yet.


If you ask Christina's friends to describe her, they'd say she's outgoing, compassionate, bubbly, hardworking, and kind hearted. In her free time, you can catch Christina listening to her favorite music, reading a good book, watching a favorite show on Netflix, or spending precious time with family and friends. She's super excited for the future, but plans on enjoying every moment of her senior year at AMSA.

Christina Bibinski, Opinion editor
Jan 28, 2018

Romney poised to re-enter the political arena

(Story)

Jan 11, 2018

Obamacare in trouble after individual mandate repeal

(Story)