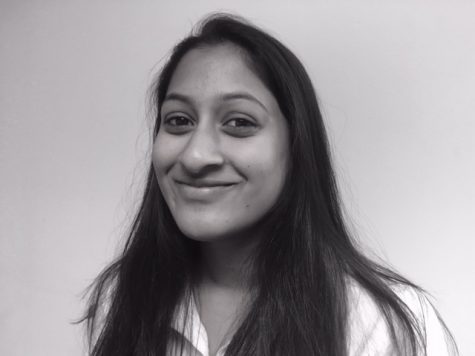 Jyotika is a senior, and hopes to enjoy her final year at AMSA. She thoroughly enjoys speaking and having a spirited debate, which is shown in her passion for the school's speech and debate team. Jyotika has been on the team since she was a freshman, and hopes to have a spectacular season as her career comes to a close.


She has been interested in the medical field for as long as she can remember, and aspires to be a doctor. On most weekends and some weekdays, you can find her volunteering at hospitals and American Red Cross blood drives. She even got an opportunity to shadow a couple of doctors in Florida this past summer. She also just recently received certification for first aid/CPR. Hopefully, in eight years, you will see her flourishing in a hospital.


When she's not at school, you can usually find her hanging out with her friends or after school at an activity. She expresses an interest in many kinds of things, resulting in a boatload of after-school activities ranging from speech and debate to volunteering to writing short stories. She has an obsession with ancient cultures, and often takes inspiration from their tales and histories for her own works. She considers reading a strong passion, and often finds herself immersed in many worlds at once. Jyotika believes The AMSA Voice will be a wonderful opportunity for her, and she hopes that she can contribute some great pieces.
Jyotika Vallurupalli, Co-editor
May 18, 2017

AMSA is No. 2, but what is the value of such rankings?

(Story)

May 08, 2017

Debate over the death penalty

(Story)

Apr 11, 2017

Ending with a different kind of win

(Story/Media)

Feb 15, 2017

Dr. Lewis named AMSA's acting executive director

(Story)

Feb 07, 2017

Disney wins big with Lucasfilm

(Story)

Jan 13, 2017

Can you die of a 'broken heart'? Science says you can

(Story)

Dec 16, 2016

Living (and believing) inside an echo chamber

(Story)

Nov 30, 2016

Fantastic Beasts

is fantastic indeed

(Story)

Nov 16, 2016

Voters say yes to marijuana, no to charter expansion

(Story)

Nov 08, 2016

Navigating the four ballot questions

(Story)