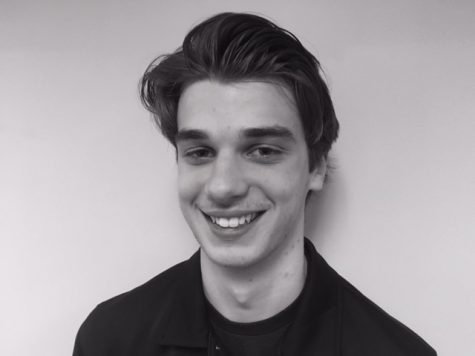 Steven is a senior and has been attending AMSA since 6th grade. He is the resident cartoonist for The AMSA Voice. He has always had an interest in the art of cartooning and grew up reading cartoons from artists such as Bill Watterson, Robert Mankoff, Charles Addams, and Walt Kelly. He has submitted his cartoons to various magazines and hopes to get published soon.


Steven also has a very deep passion for music. He plays drums for the rock band Company One, which plays venues across the state. He is also an avid collector of vinyl and believes that's how music should be listened to. His favorite bands include The Beatles, Pink Floyd, Television, Jack White, and The Who. In addition to drawing cartoons and playing music, Steven also plays midfield for AMSA's varsity lacrosse team.


Steven will continue to draw cartoons for The AMSA Voice and will continue to keep people laughing for a long time to come.
Steven Richardson, Senior writer
May 16, 2017

Trump's recklessness is endangering the country

(Story)

Apr 12, 2017

Looking back a half century to the start of musical greatness

(Story)

Nov 29, 2016

Thinking twice about Dylan's Nobel Prize

(Story)

Nov 10, 2016

America, you chose unwisely

(Story)

Sep 30, 2016

Clinton clearly won debate, and Trump reinforced why he is unfit

(Story)

Jun 10, 2016

Students banned from graduation for behavior

(Story)

May 13, 2016

In Prince, music has lost a true legend

(Story)

Apr 13, 2016

O'Brother emerges as a musical force

(Story)

Mar 27, 2016
Mar 22, 2016

The time is now for independent music

(Story)

Jan 27, 2016

Rolling Stone

breaks a fundamental rule of journalism

(Story)

Jan 19, 2016
Jan 15, 2016

David Bowie: the loss of a legend

(Story)

Dec 18, 2015

It's time to finally address the gun problem

(Story)

Dec 18, 2015

Trust me, Doctor …

(Story)

Apr 04, 2015

21

st

century music

(Story)

Mar 09, 2015

Dazed and Confused

(Story)

Jan 22, 2015
Jan 05, 2015
Dec 18, 2014