Yes, you will be guarding against identity theft — forever
Hang on for a minute...we're trying to find some more stories you might like.
News cycles move at ever-increasing speeds and even the biggest stories slip from public view in what seems the blink of an eye. It doesn't mean they are no longer there, however.
Your personal information is more accessible to hackers than ever and has been for months, and consumers will need to guard against identity theft literally for the remainder of their lives.
On Sept. 7, Equifax reported that its cybersecurity had been breached. The names, Social Security numbers, dates of birth, addresses, credit card numbers, and bank information of its users were all compromised.  
It was one of the largest financial information breaches in history.
An estimated 143 million people — roughly half of the American population — have been affected. These people will have to deal with the possibility of identity theft for decades.  
People might find themselves fighting fraudulent credit cards, false income tax returns, or even medical debts paid all in their name. This could lead to credit damage.  And once somebody's Social Security number is compromised, it is compromised forever. Nobody can get a new one.
At Equifax, the security system was vulnerable to a new style of hacking that it cannot detect. The system in place at the time was only able to stop traditional methods of system breaching.
"Hackers find ways to get around securities," former AMSA accounting teacher Matthew Stanley said. "There are patterns that normally would be detected, but there are protections that are not built into the newer technologies yet."
After public outrage and claims that Equifax did not do enough to prevent the breach, Susan Mauldin stepped down as the company's chief security officer. Ms. Mauldin studied music composition at the University of Georgia and many pointed to her lack of training in technology as the main cause of the breach.
Equifax is attempting to help people who have been affected by the situation. The company has provided a website (www.equifaxsecurity2017.com) as a tool for people to determine if they have been impacted.
Mr. Stanley said that at least one AMSA student has discovered they have been affected by the breach.
"This raises alarms," Mr. Stanley said. "High school students should know about this so they can be more aware on how to protect ourselves and protect identity early."
Equifax is also offering a free, one-year credit monitoring service for all U.S. consumers called TrustedID Premier. However, it does not include remediation of credit. The company is also offering a file lock, which allows the owner of the account to lock their credit report and unlock it, similar to a credit freeze.
There have been suggestions from some quarters to remove Social Security numbers when compiling this kind of information and replacing them with something that is unique to every human, such as retina scans or fingerprints.
"Numbers affected by the breach can never be protected again," Mr. Stanley said. "This has proven that the Social Security number has a weakness and are not the safest considering the technology we have today or will have soon."
Lino Alvarez, an AMSA computer science teacher, does not believe replacing the Social Security number with a different identity will solve the problem with information theft. He believes the more advanced the technology gets, the smarter the next generation of hackers will be, allowing them to once again break down the next stages of security.
"When you access your personal information, your security is opened," Mr. Alvarez said. "This is the same as when you unlock your door — your door is opened and it is able to be used by virtually anybody."
But, even if nothing is perfect, relying on physical traits to maintain security may be the best approach in the long run, even if there are obvious drawbacks.
"[Biometrics] can be great because they are really secure," Woodrow Hartzog, an Associate Professor of Law at Samford University, told Wired magazine in March of 2016. "They can be great because they are really secure. It's hard to fake someone's ear, eye, gait, or other things that make an individual uniquely identifiable. But if a biometric is compromised, you're done. You can't get another ear."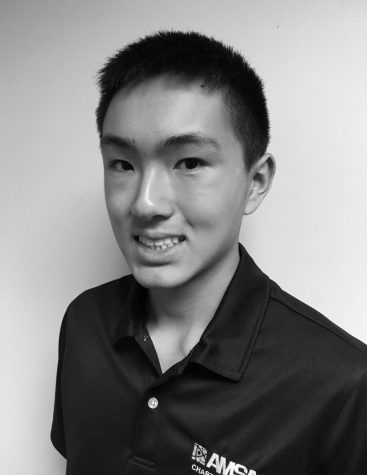 Richard Chang, Features editor

Richard Chang is a senior who has been at AMSA since 6th grade. He is interested in
pursuing English and journalism in college. He lives with his parents,...