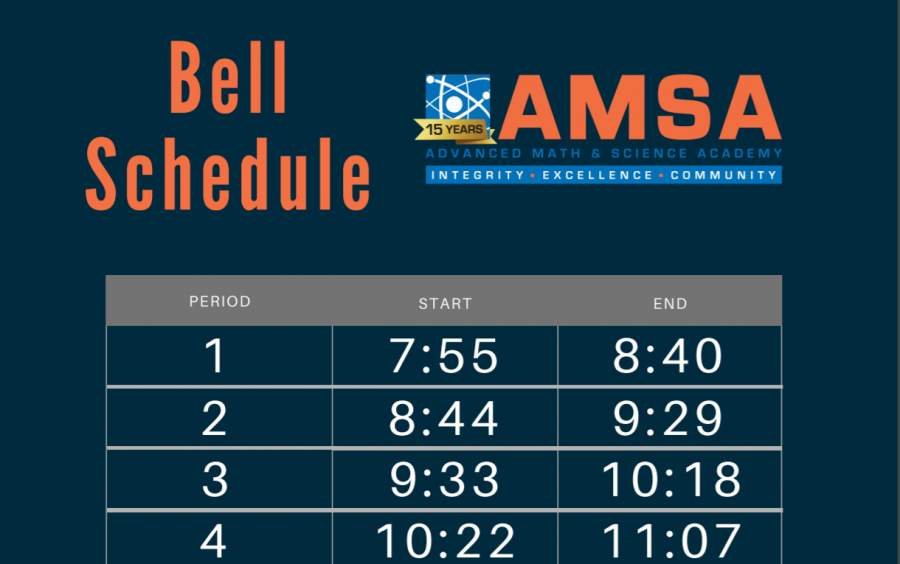 The AMSA Voice graphic
When rumors of shortening AMSA's school day began to swirl last year, the questions came flying — from everywhere.
"There was initial concern from both the parent and student sides," Vice Principal Brianna Murphy said. "This was a massive change to the schedule."
The proposal — which has been the reality since the start of the school year — consisted of three parts resulting in the day ending at 2:45 p.m. instead of 3:15. The parts: first period starting at 7:55; the removal of homeroom (which ran from 8:05 to 8:12); and shortening the transition time between classes from five minutes to four.  
Has it worked according to plan? Have worries proved to be overblown?
When the proposal was first announced, many students were upset to hear that they would be required to report to school 10 minutes earlier, with homeroom no longer serving as a kind of "grace period." Students complained that it would be even more difficult to get to school on time, something many already struggled with. 
But teenagers being teenagers, it may not matter what the time frame is.
"School could start at 11 a.m. and people would still be late," said Latin teacher Brian Bakkala, one of the proponents of the new schedule and its prime architect. "Kids are late now and were late before." 
Mr. Bakkala and a small group of colleagues had two main issues in mind when brainstorming the idea for a new schedule: student-athletes missed too much class time because of the need to be dismissed early for athletic events; and students got home late enough that it was difficult to get school work done when juggling home life, extra curricular activities, athletics, and part-time jobs. 
An extra 30 minutes wouldn't solve all problems, but an extra 30 minutes could make a big difference over the long term.
Athletes could miss "over a thousand hours [in the classroom] per season," Ms. Murphy said. The goal of gaining back this massive amount of lost class time was the driving force behind the entire change. 
Mr. Bakkala's team found that, just during the fall season, students collectively missed 6,560 minutes of class time. With the change to a 2:45 dismissal, missed time would be cut down to just 2,505 minutes, a 62 percent decrease. 
The second important aspect was the shortening of passing periods from five minutes to four minutes. 
The team put in intensive work to determine whether making this change would result in excessive tardiness. Every student's average travel time between classes was taken into consideration. 
Mr. Bakkala used several equations to determine the average distance walked by an AMSA student. This average, 2,722 feet, was then divided by the average human walking speed, 3.1 miles per hour, to find the amount of time it takes for a student to walk between classes. This time was a minute-and-a-half.
Using these numbers, Mr. Bakkala determined that the shortened transition period would not cause problems with tardiness. 
Early in the school year, the shortened passing time seemed to be a difficult adjustment. Ms. Murphy said that many teachers told her that "it has been challenging." While one minute does not seem like a lot of time, the decrease initially troubled many students.
This issue seems to have been short lived.
"I do not see people running to class," she said. "Students continue to socialize just like before."
As the school year has developed, students have gradually adjusted to the change. 
The removal of homeroom and, by extension, the morning announcements, has proved slightly more problematic. 
The previous system of reporting to the same homeroom every day has been replaced by reporting to a student's first period class. Accordingly, the morning announcements are no longer read over the PA system. 
Some people fear that the removal of the morning announcements has led to decreased club participation and difficulties in running fundraisers because of the lack of awareness. 
"As an adviser for the Dungeons and Dragons Club, I find it very difficult to alert members of meeting dates or new games that may be beginning," first-year Latin teacher Zakery Oglesby said. "We find ourselves relying on posters hung up on the wall that may very easily go unnoticed."
Animal Activism, a club started in the 2018-19 school year, has reported a large drop in enrollment. The club has seen its membership cut in half this year, while Cloud Computing, another second-year club, saw membership drop from around 30 members to just 12. 
These may just be anecdotal examples, but the fears persist.
The change that may have won students over, despite other smaller problems, is a dismissal time of 2:45 instead of 3:15. Leaving school 30 minutes earlier? Always a winning proposition.