The Matchmaker proves a nice fit for the drama program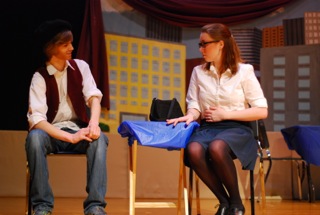 AMSA's drama program gave its second performance of its new production, The Matchmaker, on Saturday.
Overall, the AMSA cast gave fun and entertaining performances. Dan Warner was amusing and lighthearted as Cornelius, whom Dan described as "a middle-age guy who finally decides to have a good time."
His companion in the show, Sam Frechette, was also engaging as the much louder and energetic Barnaby, although at times his energy seemed to be a little much, making moments a bit awkward and unnatural, even for such an enthusiastic character.
Jessica Fehribach gave a solid performance as the confident and pleasant title character, Dolly.
"It's an interesting take on society, dealing with relations with people and how we don't always see what everyone is thinking," Dan said.
The play is based on the 1938 work by Thornton Wilder, which he rewrote in 1954. It went on to become the successful Broadway musical Hello Dolly. The play is a comedy about a rich old man, Mr. Vandergelder, who owns a store and wants to remarry.
He ends up getting married to Dolly. But the audience also follows the exploits of Mr. Vandergelder's two goofy employees, Cornelius and Barnaby, as they ditch work to go out on the town.
It is an "old man's journey to become a real human being," according to Ryan Gonor, the director of AMSA's production.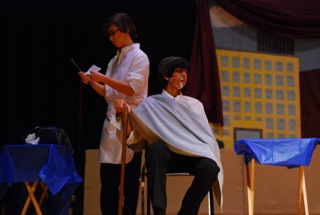 The play opens with the funny and high-pitched voice of Gertrude, played by Rhiannon Gentile, who is trying to find the door to let in Mr. Vandergelder's barber, Joe, played by Sam Commito. Gertrude is one of the best characters in the play, although she is in it for only the first few minutes and the audience never sees her again.
Despite minor missteps, the production was competently guided by Mr. Gonor, who put on his sixth production with AMSA (and ninth overall—he worked on three productions in the drama program at Suffolk University).
He has loved his time guiding AMSA's drama program.
"[AMSA students] are really smart and fun," he said. "[AMSA] gave me direction. I didn't want a desk job."
Mr. Gonor's creativity allows him to construct productions that seem more expensive than their minimal budgets. Obviously, it isn't Broadway, but Mr. Gonor does an excellent job of deflecting attention from the budget with clever direction
This is true, for example, when Mr. Vandergelder is driven in a car and the audience just sees four people behind a small cardboard cutout of a car. He stages something similar in the restaurant scene where it is obvious that there is nothing on the characters' plates, but they act like there is, except for Barnaby, who keeps yelling at the waiters for actual food.
The fact that Mr. Gonor almost poked fun at his own play as well as satirizing plays in general made for some very funny moments that otherwise would just have been moments in which the audience had to use its imagination to see something that was not there.
The script was well adapted from the old-fashioned language of the original script, which was one of the biggest obstacles the crew faced, according to Mr. Gonor. The fact that the script was in a way translated was scarcely noticeable.
"
We can now do any [type of] show, which is really exciting."
— Ryan Gonor
The set was very simple with a painting of a big window overlooking the backdrop of a city landscape. Even though it was simple, it was effective because it was able to convey the chaotic feeling of a city, matching the chaos of the characters.
Even with the same backdrop throughout the production, the furniture and floor of the play changed from scene to scene, so the visuals did not get boring.
The play was two and a half hours long (including a 15-minute intermission), which at times did seem to drag on a bit. There were a few character monologues that could have been cut a little, as they became repetitive with actors figuratively beating the audience over the head with the play's message of living life to the fullest.
Still, the drama program has expanded and improved significantly during Mr. Gonor's tenure. Utilizing the help of teachers Martha Richardson (the faculty advisor for AMSA's previous five productions) and Christine Crocker (the faculty advisor for the current show), AMSA now puts on two shows a year with the challenge of not having its own auditorium.
Beginning last year, the program was able to incorporate music into its shows, thanks to the addition of musical director Allie Sebeika, who is, in Mr. Gonor's words, "amazing with music." With her help, Mr. Gonor notes, "we can now do any [type of] show, which is really exciting."
Mr. Gonor's plans for the future include "maybe a senior show"
and theater workshops, the first of which is in the works for January.
View Comments (2)
About the Contributor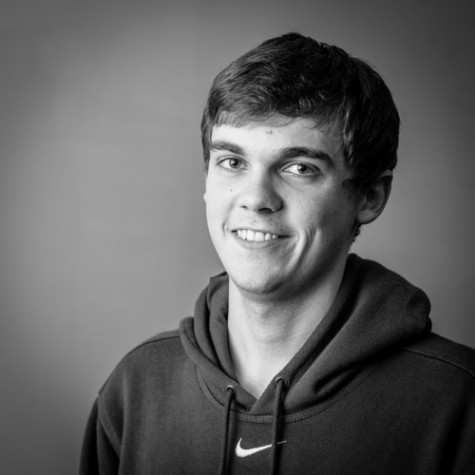 Nathan Richardson, Features Editor
Nathan Richardson is a truly talented and gifted individual. He has been a student at AMSA since 8th grade. He is now a senior and still does not really...