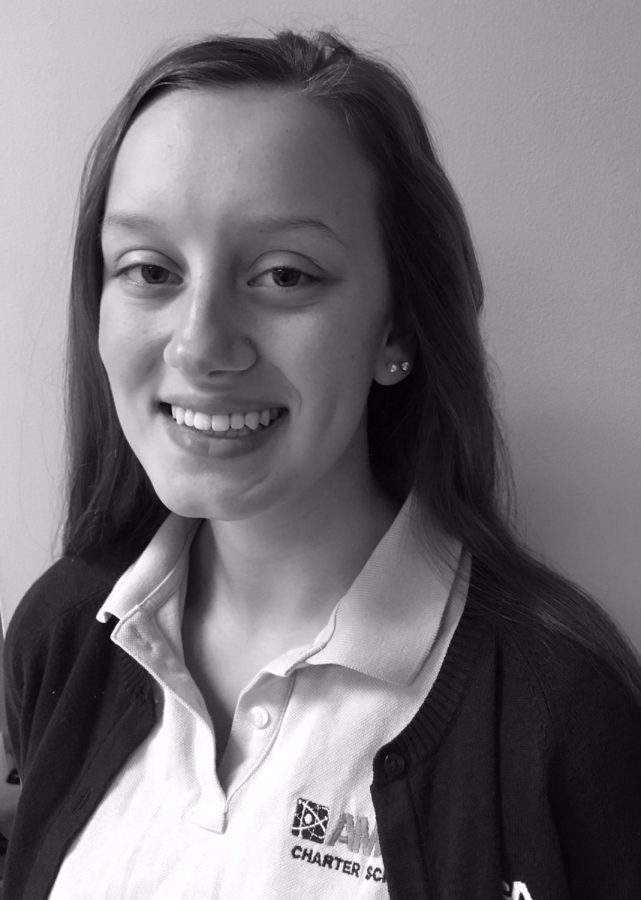 Amelia is a senior. She has a great interest in writing and is excited to be a journalist and co-editor for the The AMSA Voice. Amelia has attended AMSA since 6th grade and has been deeply involved in the community from the beginning.


Amelia has been a student body representative for the Class of 2018 since 9th grade, serving as vice president her junior year and president her senior year. She has served as one of the two selected students on the Executive Director's Advisory Council, which discussed hot topics at AMSA. She will be serving on the Principal's Council for Community Relations as well as working closely with the school's administration to plan community meetings and acting as the master of ceremonies. Amelia is also part of the school's handbook committee, which reviews and revises school policies.


In her free time, Amelia dances classical ballet and competitively figure skates. Over the summer she competed in three triathlons, placing second in one and third in another for her age/gender. She will be (hopefully) completing an Ironman 70.3 in June.


Amelia is elated to bring her knowledge and creativity to The Voice this year.

Amelia Marceau, Co-editor
Apr 10, 2018

Black Panther

is much more than just a superhero movie

(Story)

Mar 29, 2018

Vaping is likely dangerous and it certainly isn't cool

(Story)

Mar 29, 2018

AMSA students to peers: We stand with you

(Story)

Mar 19, 2018

The walkout: Why we did it

(Story)

Feb 19, 2018

The time to act is now, with no excuses

(Story)

Feb 04, 2018

Trump's address focuses on jobs and immigration

(Story)