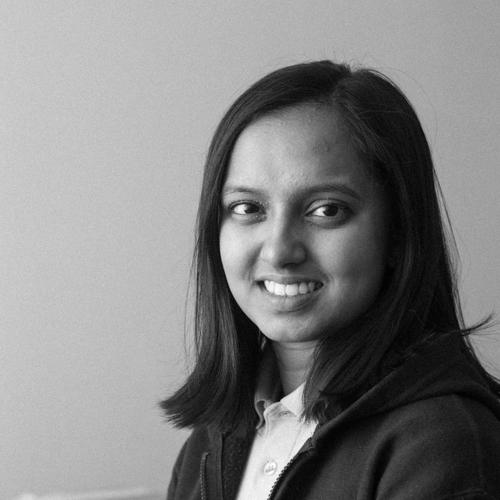 Anagha Indic is one of two co-editors for The AMSA Voice and a member of the Class of 2015. Anagha is an avid learner in pursuit of an engineering career.
She loves to talk and finds herself taking the initiative to be the first person to give a speech or presentation in class. Consequently, she is co-captain of the AMSA Speech Team. While she stands at an unimpressive five feet and three-quarters of an inch, she does not let her vertically challenged nature diminish her confidence and natural leadership skills.
Anagha is the oldest child in her family and she has a 12-year-old brother who attends AMSA as well. Her family is the first to immigrate to America—Anagha was only four years old when she came to Massachusetts, where she has lived ever since.
When she is not reading textbooks or on her laptop writing essays, Anagha plays the piano and dances. Among her favorite classes is Media Analysis because it allows her to study the influence of media on society and how it shapes the world.
Anagha loves music, the universal language of the world. For instance, she takes pride in her love for Korean pop, which prompted her to study not only the language but also the culture of South Korea.
While Anagha likes to live life with a carefree and optimistic viewpoint, she does understand the seriousness of her future. She plans to major in computer engineering and to travel the world, learning from great minds far and wide.
Anagha Indic, Co-Editor
Jun 03, 2015

AMSA charter renewed–but with conditions

(Story)

May 12, 2015

Is it religious freedom or discrimination?

(Story)

Apr 12, 2015

Hillary Clinton and personal email use: nothing to see here

(Story)

Mar 22, 2015

And then there were three: AMSA names ED finalists

(Story)

Mar 08, 2015

Policy change allows students to color their hair

(Story/Media)

Mar 04, 2015

The follow up to an American literary classic

(Story)

Mar 01, 2015

AMSA to remain without a principal

(Story)

Feb 23, 2015

Scientists warn of a potential mass ocean extinction

(Story)

Feb 06, 2015

Is Romano the right fit as next AMSA leader?

(Story)

Jan 18, 2015

Will the phone ring in the morning? That call is made well before sunrise

(Story)

Dec 12, 2014

AMSA administrative changes: What does the future hold?

(Story)

Jan 10, 2014

U.S. and Cuba: Shaking hands with clenched fists?

(Story)