Romney poised to re-enter the political arena
Hang on for a minute...we're trying to find some more stories you might like.
Sen. Orrin Hatch of Utah, the longest-serving Republican in the chamber, announced earlier this month his decision to retire at the end of his term, paving the way for former Massachusetts Gov. Mitt Romney to resurrect his political career.
"Every good fighter knows when to hang up the gloves," Sen. Hatch, 83, said. "And for me, that time is soon approaching. That's why after much prayer and discussion with family and friends, I've decided to retire at the end of this term."
With Sen. Hatch stepping down after a 40-year tenure, the seat seems one for Mr. Romney to lose should he opt for a run. Pundits are in agreement that the 2012 presidential nominee will do so — and Mr. Romney seemed to leave little doubt when he changed his place of residence on Twitter from Massachusetts to Utah after Sen. Hatch's announcement.
With Democrats seemingly poised to make gains in this year's midterm elections, Sen. Hatch's decision means President Donald J. Trump could lose yet another political ally.
Mr. Trump "lost a Senate seat in Alabama after his preferred candidates were rejected" and "also faces an exodus of Republicans from both chambers of Congress and has been warned of a political typhoon in November," wrote Jonathan Martin in The New York Times.
The White House has been cautious in assessing a possible run by Mr. Romney, a long-time and vociferous critic of the president.
"A Senator Romney could prove a pivotal swing vote, impervious to the entreaties of a president he has scorned and able to rally other Trump skeptics in the chamber," Mr. Martin wrote.
Mr. Romney, who knows how to navigate the political landscape and even softened his criticism of Mr. Trump when he angled for a possible appointment as the administration's Secretary of State, has taken a neutral approach.
"When there are things he agrees with him on, he'll be a big supporter," Spencer Zwick, long-time fundraiser for Mr. Romney, said of a possible political relationship. "And when there are things he disagrees with, he'll voice that."
Several incidents in the past year, however, speak to Mr. Romney's potential to be a thorn in the president's side.
"Late in 2017, just hours after Trump had voiced support for Roy Moore, the GOP's embattled Senate nominee in Alabama, Romney spoke out on Twitter against Moore," reported The Washington Post. Weeks before, "Romney praised Sen. John McCain (R-Ariz.) following a speech that featured a sharp critique of Trump's approach to foreign policy."
Former Utah congressman Jason Chaffetz said to expect more of the same should Mr. Romney become Senator Romney.
"Make no mistake about it: Mitt Romney is going to speak his mind if he thinks the president is saying or doing something silly," the Republican said.
Mr. Romney delivered a scathing assessment of Mr. Trump last March, when the latter was heading toward the Republican presidential nomination. Mr. Romney labeled Mr. Trump a "phony" and a "fraud" who was "playing the American public for suckers."
Although Mr. Romney, 70, has yet to officially say he's running, "Republicans with a close eye on the race said they have seen signs for a while that Romney's allies have been gearing up for a campaign," The Washington Post reported.
With so much currently on Mr. Trump's political plate, a possible Romney run presents just another headache.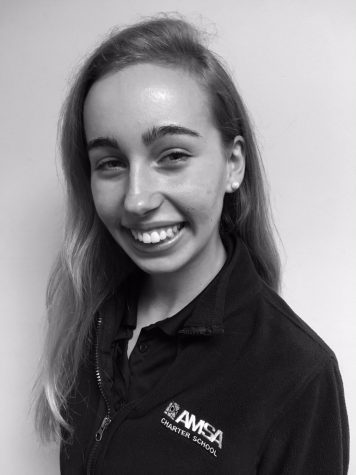 Christina Bibinski, Opinion editor

Christina, now a senior, seeks to further her writing abilities this year as a staff writer for The AMSA Voice. Although she aspires to have a career...