Wonders brought to vibrant life in Boston theatre production
Hang on for a minute...we're trying to find some more stories you might like.
Nannies who fly across the stage, whirlwinds of colorful dancers, statues that come to life, broken dishes that repair themselves, and a household that learns to be a true family were but a few of the wonders contained in Wheelock Family Theatre's production of Mary Poppins, which closed in Boston on Sunday.
In keeping with its tradition of "colorful casting," WFT's Mary Poppins featured an Asian Mary Poppins, the delightful and "practically perfect" Lisa Yuen who starred in the original Broadway cast of Miss Saigon and The 25th Annual Putnam County Spelling Bee. A sharp contrast to Ms. Yuen's prim Poppins was Dan Reardon's lively Bert.
Director-choreographer Russell Garrett's vibrant choreography was executed brilliantly by a talented ensemble. They shined in "Supercalifragilisticexpialidocious," borrowing from the original Broadway choreography in which each letter corresponds to a motion.
The true showstopper, though, came in the second act with the spectacular tap number "Step in Time."
Of course, family is a crucial theme in the show, and Mr. Garrett's work combined perfectly with that of a talented cast across the board. Lily Ramras and Asher Navisky (who alternated with Eowyn Young and Cameron Levesque) were a delight as the mischievous Jane and Michael Banks and made a perfect pair.
Andrew Giordano made for a Mr. Banks who is just the right balance of uptight and sentimental, while Laura D. DeGiacomo developed a Mrs. Banks whose concern for her family is utterly believable and touching. They created a bond among the family that was immediately evident.
Another highlight was Shana Dirik's Miss Andrew, the "Holy Terror" who raised Mr. Banks to be the strict household dictator he is. Ms. Dirik's high soprano is simultaneously impressive and terrifying in threatening the disobedient children.
The production was pulled together by secondary characters: WFT favorite Gamalia Pharms added heart as The Bird Woman; Beth Gotha and Pablo Torres alternately provided sardonic and slapstick humor as house servants Mrs. Brill and Robertson Ay; and Shannon Lee Jones presented a merry Mrs. Corry.
Though the show ran a bit long for a children's production, clocking in at two and a half hours even with an entire number cut, it remained thoroughly engrossing throughout—a distraught child next to me exclaimed midway through the show, when Mary Poppins and the children made an exit through the fireplace, "Is it over? It can't be over!"
It was clear to see why performances were added to the run, which unfortunately ended over the weekend. This magical production truly made audience members believe, if only for a few ephemeral hours, that "anything can happen if you let it."
Fans will get an opportunity for more magic in WFT's upcoming production, A Year with Frog and Toad, which begins its run on April 15.

About the Writer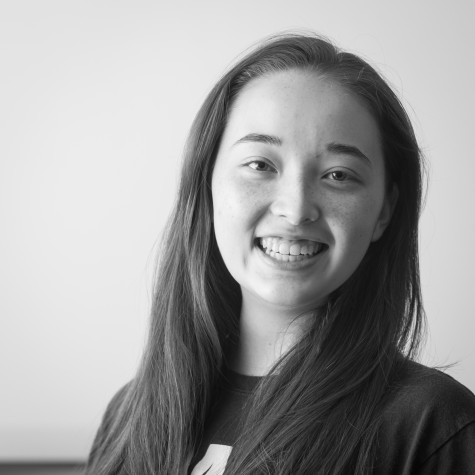 Lexi Ryan, Staff writer
Lexi Ryan is a senior. After teaching herself to read around age 3, she has had
trouble stopping ever since. She has transmuted this love of reading into...