A magical night among the stars
AMSA student lives the dream of being on the Red Carpet
In November, I found myself only 10 feet away from three of the biggest movie stars on the planet. On my left, Wonder Woman herself, Gal Gadot, walking the Red Carpet; in front of me, Dwayne "The Rock" Johnson addressing the crowd; and the actor who played Deadpool, Ryan Reynolds, to my right answering questions.
Yes, I was very excited to attend the premiere of the Netflix film Red Notice, which became the biggest movie debut ever for the streaming service, with 148 million hours of viewing in its opening weekend, according to the company.
So, how did I get there? They say Hollywood is all about who you know, and I know my Uncle Rawson, better known as the writer, director, and producer of Red Notice, Rawson Marshall Thurber. 
Yes, the man behind Dodgeball and We're the Millers is such a close family friend that we call him Uncle Rawson.
The premiere took place in downtown Los Angeles at the Regal Cinemas L.A. Live. Knowing it was my first premiere, my uncle pulled out all the stops. I started the night at 6 p.m. at a pre-event cocktail party. The Covid protocols were intense. I had to take a special test 48 hours before the event and then prove my vaccination before they let me in. I also had to wear a special wristband to show that I had gone through all of the security checks.
It was really interesting to see how people treated me — none of them knew if I was a millionaire or not so they treated me like royalty. If I had a nickel for every time someone either offered to get me a drink or came by with a fancy appetizer, I would've ended up with about $5. 
The pre-event party was loaded with famous Tik Tok stars, as well as cast members, and people who worked on the film. I'm used to seeing people from Tik Tok on my phone so to have lots of them just brush by me was insane.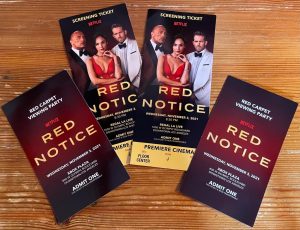 I was surrounded by the most beautiful women and the most handsome men I had ever seen. My neck hurt from looking around so much. I saw that there was an open bar where I could order whatever I wanted, although I ended up just ordering a Shirley Temple. 
The premiere started at 9:30 and was introduced by an executive for original film at Netflix, as well as my uncle, The Rock, and Gal Gadot. Ryan Reynolds was already on his way back to New York to do press for the film.
The weirdest thing was that no one was allowed to eat popcorn in the theater. Watching the film was interesting because I had seen it months ago when it wasn't finished so I saw how it all came together. I also felt relieved that I went months knowing the ending of the movie and didn't spoil it for anyone. 
As with all movies, Red Notice isn't for everyone — since its release it has broken a number of global records but critics haven't been as receptive as audiences have. Only 37 percent of critics gave it a positive review, whereas 92 percent of viewers enjoyed it, according to Rotten Tomatoes.
In the end, Hollywood is a business, and studios are going to keep making movies that draw the most viewers. 
The film is the story of Special Agent John Hartley (Johnson) chasing down the biggest art thief in the world, Nolan Booth (Reynolds). Little do they know that they have caught the notice of a shadowy art world legend known only as The Bishop (Gadot).
Once the film was finished, I attended the after-party at The Perch Rooftop Bar. Getting there was pretty funny because we took an Uber and the driver said that she didn't mind staying up so late because she "loved meeting people like you."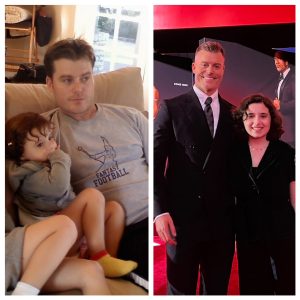 It was almost midnight when we got there and the atmosphere was exciting. It took two different elevators to get up to the top, where the view of downtown L.A. at night felt surreal. It was 72 degrees that day in Los Angeles but by midnight the temperature had dropped into the 50s, so I found a place by a fire pit to sit. 
Waiters in tuxedos came by offering all kinds of hors d'oeuvres on little plates and sticks. Everything from Kobe beef sliders to bruschetta to chicken teriyaki. This was a much smaller crowd then at the pre-event party, but it was still packed.
I lost track of how many people I met. Among them were the producer Beau Flynn and cinematographer Markus Förderer. I eventually finished the night at 2 a.m. 
Coming down from the excitement of a big Hollywood event feels a little bit like time slowing down. It was so exhilarating to be at the center of the action that it made my regular routine harder for a few days. I was grateful for the opportunity to be invited and have such mindblowing access to every part of the event.
But the best part of it all was my Uncle Rawson saying that his favorite part of the whole night wasn't the movie stars, or the Red Carpet — it was having me there to experience it with him.
Leave a Comment
About the Contributor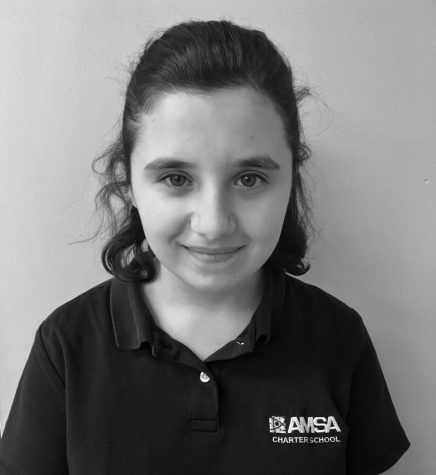 Tuesday Benander, Editor
Tuesday is a senior who has attended AMSA since 7th grade. She serves on the student government, is a certified peer mediator, and is also a member of...