Alexia Putellas is the greatest athlete you've never heard of
Have you heard of Cristiano Ronaldo? 
How about Lionel Messi?
They're generally regarded as the best soccer players of the past generation (perhaps ever) in the men's world, known even among people who don't consider themselves soccer fans. But they have a counterpart whom you may never have heard of.
Alexia Putellas.
Have you ever heard of Alexia Putellas? Probably not, because even though she's universally considered the finest player in her sport, she's a female athlete, lost amid the focus on this year's men's World Cup and, tragically, the recent death of the Brazilian legend Pele. 
So who, exactly, is Alexia Putellas? She's a phenom. Not only has she won the Ballon D'Or, a golden trophy given to the best player in the world, male and female, twice in a row — the only female player ever to do so — but she's also won the UEFA Women's Player of the Year Award twice as well.
She and her team, Barcelona, have won the Spanish Women's League seven times, the Copa De La Reina seven times, the Catalan Cup seven times, and the Spanish Super Cup twice.
This past summer she tore her ACL the night before the UEFA Women's Euro started and she was still voted the top player on the planet, despite missing the most important tournament of the year. So … she's pretty good.
If you look at the back of Alexia's shirt you'll see that it says "Alexia" and not "Putellas" because she likes to be referred to as just "Alexia." So that's how I'll refer to her as well.
So how did Alexia, 28, become the icon not enough people know? Growing up, she was a huge fan of the Barcelona men's team. She attended games at Camp Nou (Barcelona's home stadium) with her father, and started playing soccer at 7 years old for a team called CE Sabadell.
At the ripe old age of 16, she made her first senior appearance for semi-professional Espanyol, then at 17 she signed with Division 1 Levante. Finally, in 2012, Alexia joined her favorite childhood team, Barcelona, and everything fell into place for her.
The first time she played at Camp Nou she felt a deep sense of accomplishment.
"Back then, if you'd have told me that one day I would set foot on that grass, I'd have been like, 'Pffft, no way. Only men play here,'" Alexia said. "When I played there last year, it was the realization of a dream I'd had since I was 6 years old."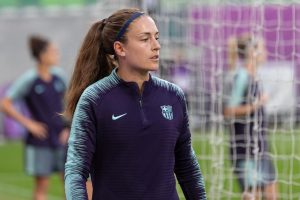 In 2019, she reached the Women's Champions League final and was made the face of Nike's promotions for Barcelona. A billboard was displayed in the streets of downtown Barcelona with her image on it, reading "Don't play for finals, play for history."
When she won the Ballon D'Or for the first time in 2021, an image of Alexia was projected onto the Burj Khalifa, the tallest building in the world in far away Indonesia.
"I heard it's the first time they've put a woman's image up like that," she told The Players' Tribune. "That's pretty cool for the visibility of our sport."
Unfortunately, her father didn't live to see it, having passed away when Alexia was 18. When she scores a goal she often points at the sky in dedication to her late father. When she won her first Ballon D'Or, she dedicated it to her father.
Spaniards call her "La Reina," which is Spanish for "The Queen." Yes, she's so beloved that she's literally referred to as The Queen. All over Spain, billboards with Alexia's face on them celebrate her greatness, and every little girl knows her name.
How many people know she has sold more jerseys than Gerard Piqué or any other current Barcelona player in Spain?
So why don't we know her here?
I think it has a lot to do with the United States not being as obsessed with soccer — or should I say "football" — as the rest of the world is. The European men's teams regularly annihilate our United States men's team, because any athlete who grows up in this country and is in that .01% of superior athletic ability is very quickly ushered into the talent funnel for more lucrative professional sports developments leagues, such as basketball, baseball, and American football.
The truth is our men's teams are just not as developed, don't have the top athletes on them the way their counterparts around the world do, and soccer as a sport is just not really talked about with the same fanaticism or intensity as it is elsewhere on the planet.
Historically, this pertains primarily to the men's side of the sport, because the American women's side has been ranked at or near No. 1 for the past two decades. Around the world, the sense is that the United States men's teams are just not serious contenders.
Moreover, it's a simple matter of sexism. The world has yet to adjust to the concept of women forgoing more traditional pursuits such as dance and music in favor of the rigor of competitive athletics. Even die-hard male soccer fans have been quick to degrade the sport, saying things such as the women's game is "boring," or "no one watches it," or "they don't have any skill." Over the past couple of years, however, this archaic narrative has finally started to shift.
The UEFA Women's Euro competition, which featured the best women's teams across the continent of Europe, took place this past summer. It had 365 million people watching globally. That's a lot of people. 
Players such as Alexia, who continue to push the boundaries of the sport, are helping to accelerate that growth, and she has addressed the topic directly.
"Previously, people would question whether the demand was there for women's football, but now it's the supply that needs to catch up," said Alexia. "In the 20 years I've been playing, the world has changed and it's only going to keep changing. And if you think that the level of engagement in women's football is good now, you are going to look back and laugh in a few years. It's going to be insane."
And Alexia will be there, continuing to inspire the next generation of female athletes while also leaving the game far better than she found it.
Leave a Comment
About the Contributor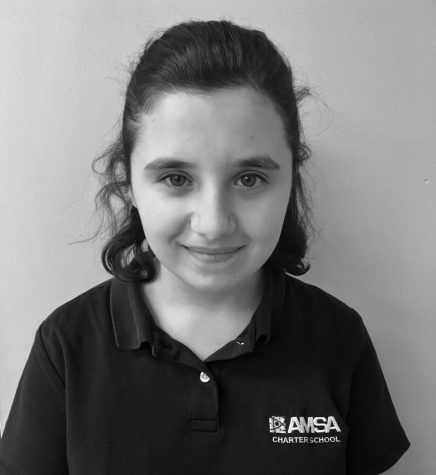 Tuesday Benander, Editor
Tuesday is a senior who has attended AMSA since 7th grade. She serves on the student government, is a certified peer mediator, and is also a member of...