AMSA administration change, round three
School leaders are hopeful that now is the time for stability
MARLBOROUGH–AMSA students, teachers, and parents alike are anxious and have one primary concern: the fate of their 10-year-old school. The source of the anxiety is a third administration in three years.
The leading question on everyone's mind: What does the future hold for AMSA?
"Even though we've ended up having a successful six years at AMSA, the constant change has been frustrating," senior Shrutika Ruhela said. "We're concerned for the future of the school, and we hope that the future generations of AMSA students won't experience the same confusion we did every year."
Tension reached its apex during former executive director John Brucato's tenure, with Jay Sweeney as principal. Teachers expressed growing unhappiness and unease by unionizing. The distress and mistrust prompted an independent assessment of the school's environment, conducted two years ago by the company "Connect to Greatness."
Perhaps the most distressing problems pertained to poor relations between teachers and administration, low morale, and the professed lack of a safe work environment.
The report showed that only 8 percent of teachers interviewed believed that morale was high at the school and only 20 percent of employees felt safe to speak out.
These issues, in part, contributed to the exit of nearly three dozen teachers (voluntarily and otherwise) over the past three years, leaving students and parents frustrated and saddened and leaving the school in a constant state of flux.
"It's going to take coordination and some trust that the current administration has AMSA's best intentions in mind," first-year Principal Dr. Michael Curry said. He added that he works best in a collaborative atmosphere and that he believes that is exactly what AMSA needs.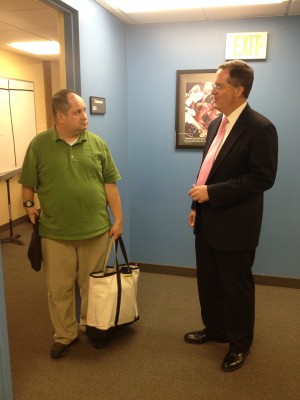 After Mr. Sweeney resigned in the spring of 2014 and Mr. Brucato was re-assigned to a new post in July before he, too, left the school, Dr. MaryAnn DeMello was hired to serve as AMSA's interim executive director and principal for the 2014-2015 school year.
As Dr. DeMello sought the executive director position permanently through more uncertainty and turmoil, AMSA's Board of Trustees conducted interviews in search of a permanent leader. On April 7, the BoT brought in Dr. Joseph McCleary as the school's executive director.
Dr. McCleary then rounded out his administrative team with the hiring of Dr. Curry and Vice Principal Erin O'Connor.
The new administrators acknowledge AMSA's issues with stability and communication, and they are confident in their abilities to stabilize the school.
"I want to make sure that if people have questions, they can ask and I want to keep things moving [forward]," Ms. O'Connor said.
Dr. McCleary feels that his past experience with charter schools in Massachusetts qualifies him as the best candidate for restoring the peace and a sense of trust in AMSA. He believes that setting a good example is the responsibility of all, specifically those in leadership roles.
"Everyone at the school is invested in fostering a climate and culture of respect and good manners," Dr. McCleary wrote in an email response. "This is the only way, in my opinion, that a school or any institution can be truly effective and promote genuine human flourishing."
Students and faculty still see untapped potential in their school; however, the constant coming and going of administration and faculty has not been easy for the student body. This is especially difficult for this year's seniors, who have been at AMSA for the past six years.
"There is no doubt that there has been a lot of anxiety among the faculty [with all the change], but we are hopeful that Dr. McCleary's hiring is going to begin a period of stability at AMSA," history teacher Jessica Bowen said.
Ms. O'Connor, in addressing the stress felt in the AMSA community, said she especially empathizes with the seniors.
"I understand where their stress is coming from," Ms. O'Connor said, acknowledging the aggravation felt with seeing so many people come and go and the anxiety that comes with thinking about the future of the school after they have left.
Right now, the administration is using the tactic of "play to your strengths." Dr. Curry is working with teachers to coordinate curricula and professional development. He is looking forward to receiving input from teachers, as he believes they are the reason for AMSA's rapid success.
Ms. O'Connor is primarily focusing on student-related activities, such as after-school clubs. Organization is one of her strong suits, and she hopes that she will make the creation-of-clubs process easy to follow in the future.
Dr. McCleary, who was most recently the executive director of the Lowell Collegiate Charter School, is overseeing and coordinating the running of the entire school.
While many are hopeful for the future, few dispute that there are issues still to overcome and that change of any kind can be difficult. It will take time, communication, hard work, and dedication, but Dr. McCleary and his team say they are looking forward to it.
"Change is always scary," computer science teacher Padmaja Bandaru said. "Having hope that things will change for the better is a motivator."
Teachers remain faithful to the school, with the hope that things will get better. The students, while critical of the new administration, are also looking ahead with optimism.
"I'm looking forward to a very bright future," Dr. Curry said. "I'm looking forward to pushing the teachers, and the students, and all the staff at AMSA to their full potential. Everybody says that, but I believe it."
Leave a Comment
About the Contributor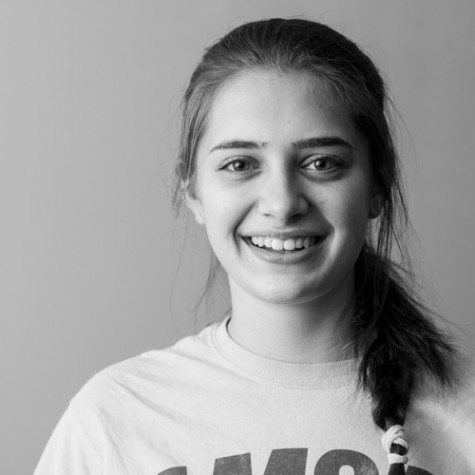 Rebecca Perlin, Senior writer
If you asked Rebecca's friends how they would describe her, they would probably say compassionate. She cares a lot about her friends, and always tries...