AMSA Drama Society adds flair to a holiday classic
Even with a cast comprised almost entirely of untrained Lower Schoolers and underclassmen, AMSA's Drama Society managed to produce a charming and humorous rendition of Charles Dickens' A Christmas Carol at Assabet High School's auditorium on Dec. 6 and 7. 
Although the play can often be considered overused during the holiday season, the drama society was able to add its own comedic touch in conjunction with several hand-made costumes to the classic material to create an interesting, heartfelt, and visually appealing production. 
The drama society faced the hurdle of so few experienced upperclassmen involved to help guide newcomers, but the latter rose to the occasion.
"I think this is the most prepared we've ever been for a show," said senior Dustin Burkhart, who portrayed Scrooge's festive nephew, Fred. 
This sense of confidence was clear, with a majority of the actors delivering their lines clearly and with practiced projection. Especially impressive was the vocal power of John Devereaux, a freshman in the leading role of Ebenezer Scrooge.
John put an astonishing amount of work into his performance, clear in not only his skill and comfort on stage but also the early memorization of his lines when, according to the crew, many of the other performers still required a script.
"Basically, I just do the blocking and then I go home and read over the script," he said. "I connect the movement to the lines."
Despite the talent of the leading man, many of the younger actors on stage were distinctly quieter than their counterparts, detracting from the quality of the show. Many scenes featuring Lower School students were practically inaudible from the back row, leaving odd breaks in the story for some audience members.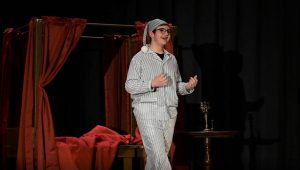 Of course, these types of shortcomings are expected of such a young cast, as they are still being trained to project their voices. Additionally, many of the Lower Schoolers had not been on stage nearly as often as the older students, if at all, and lacked the experience and confidence required to deliver their lines properly.
Even with the missing chunks of story, the production was visually stunning, with impressively vibrant, historically accurate costumes both designed and created by chemistry teacher Christine Crocker and AMSA parent Caralee Evans. 
A majority of the costumes for this production were made by hand, requiring hours of work from both Ms. Crocker and Ms. Evans. Their hard work paid off, as every costume made even the simplest of scenes impossible to ignore.
Alongside the impressive costume design, the backdrops for each scene were extremely well-made, although somewhat lacking in number. While they were lovely to look at, it felt as if the backdrops were very limited, often only one or two panels in width. 
Although the prevalence of props such as desks, beds, and coat racks more than made up for the comparatively small scenery backdrops, some scenes felt oddly empty with only a single panel of background surrounded by the dark curtain.
Given the difficulty of creating massive backdrops with a limited group of students, their lacking presence was forgivable, especially considering the beauty of what was there. 
Beyond the visual aspect of the play, the acting itself was almost always impressive, particularly from the older students. 
Although she did not play a major role in the story, Mallika Subash Chander, who played Scrooge's ex-fiancée, Belle, was unexpectedly emotional in the scene in which she cuts off her engagement to Scrooge. After realizing that he will never care for her as much as he cares for money, she denounces his greed, seemingly on the verge of tears, creating a scene that was surprisingly heartfelt for a school production. 
Other actors, such as Jamie Meindersma and Zeena Acharya, added depth to the play with their intense emotions and commitment to their characters, despite playing more minor roles. 
AMSA's production of A Christmas Carol was an engaging rendition of the classic holiday play, introducing humor in a way that felt as if it should have always been there.
Leave a Comment
About the Contributor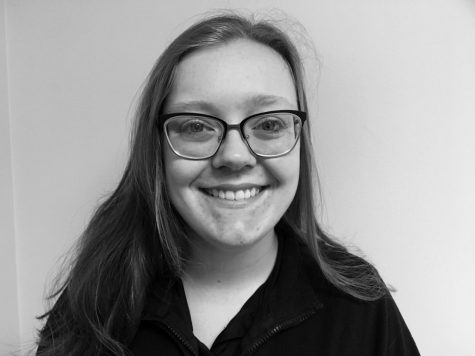 Meaghan McDonald, Photo editor
Meaghan is a senior who is writing for The AMSA Voice for the first time. She hopes to write many articles to further the public's understanding of what...