AMSA students are invested in the politics of impeachment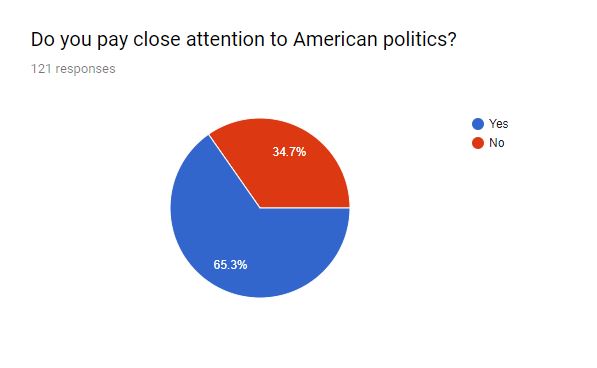 Dec. 18, 2019. A monumental day in American politics. For the third time in history, a sitting president was impeached by the House of Representatives. The Democrats, led by Speaker Nancy Pelosi and Rep. Adam Schiff (D-Calif.), charged that President Trump obstructed Congress and abused his power.
On the other hand, Republican members of Congress, and the president's team of lawyers, railed against the charges, saying that Mr. Trump's actions failed to rise to the level of impeachment.
Seven weeks later, the Senate is poised to render its verdict on the charges. The president is expected by all watchers to be acquitted today. 
The impeachment process has energized both sides of the political aisle, leading to polarized discussions across the country. 
The idea of impeachment has always been split along partisan lines. Polls have consistently shown strong support from Democrats, weak support from Republicans, and independents approximately even, but skewed towards supporting impeachment.
But what about at AMSA? Has impeachment impacted classes? Clubs? To find out more, The AMSA Voice distributed a survey to all Upper School students at the start of the process in order to gauge their thoughts about the process and politics in general. 
As a whole, it seems that students have had numerous discussions regarding impeachment and are generally aware of American politics.
Out of 121 responses to the survey, 79 said that they have paid close attention, with the strongest reason being that "they like to stay informed regarding politics."
One unique thing to note is the breakdown of how students identified politically. Of the 121 responses, 41.3 percent of students self-identified as moderates, 38 percent considered themselves liberal, and 20.7 percent considered themselves to be conservatives.
Especially in a fairly liberal state such as Massachusetts, it's interesting to see that students who responded to the survey identified almost equally as moderates and liberals. The natural assumption, especially concerning young people, would be that more identified as liberals. 
Students' opinions regarding the inquiry and trial almost mirror what has been going on around the country. Of those who responded, 95.7 percent of liberals were in favor of the impeachment inquiry, as opposed to 74 percent of moderates and just 16 percent of conservatives.
The percentage of moderates that support the inquiry was significantly higher than the national average.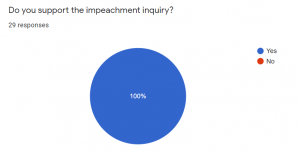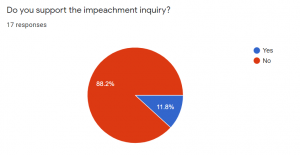 The results at the two ends of the spectrum, however, were what one might expect. Liberals overwhelmingly supported the impeachment inquiry, while conservatives strongly did not. Nationally, the numbers have been about the same. According to a Morning Consult/Politico poll from Dec. 6-8 that interviewed 1,994 registered voters, 83 percent of Democrats supported the impeachment inquiry, while 81 percent of Republicans opposed it.
The primary reason students seemed to be in favor of the impeachment inquiry was that it holds Mr. Trump accountable for his interactions with Ukraine.
"I think it's necessary to seek truth in all situations, and if Trump ends up not guilty at least the truth was sought out and found instead of nothing being done," sophomore Lauren Williams wrote in the survey's comments section. "The inquiry isn't a witch hunt—it's a necessary part of democracy." 
On the other hand, those who identified as conservatives strongly supported Mr. Trump. Most, however, did not leave their names in the survey, meaning their responses could not be quoted (The Voice does not use anonymous sourcing), possibly indicating a fear of pushback from peers for defending the president.
For the most part, students have been resigned to the fact that Mr. Trump will likely be acquitted in the Senate, no matter the evidence the body has seen against him.
"I don't think Trump will be removed from office," junior Zeena Acharya responded. "I think it will be passed in the House but not in the Senate just because Republicans have control of the Senate and probably will vote against the impeachment."
Jessica Bowen, AMSA's AP Government and Politics teacher, perhaps put it best.
"President Trump has done a good job solidifying his base," she said. "He's framed it as a partisan battle."
Impeachment has come up numerous times in Mrs. Bowen's class—so much so that she's had to sometimes tamp it down, since there is a lot of other content to cover.
"It has the potential to derail the curriculum," she said.
Even outside the classroom, students have talked about the impeachment inquiry and what it means for the country.
"It hasn't been in school, but in Model UN, we talk about it all the time," senior Chloe Wing wrote. "I think it's more of an unspoken thing in school about how tired we are of hearing about Trump over and over again." 
But is everyone passionately paying attention? Of the 42 people who said they don't pay close attention, 28.6 percent said they don't care, 35.7 percent don't know the best way to pay attention, 28.6 percent said the environment is too hyperpartisan, and 38.1 percent said they don't have time (students could choose multiple responses).
It will be interesting to see if those numbers change as the impeachment process blends into the presidential election process (the Iowa caucuses were held Monday). Impeachment, and what it means comes November, won't be going away any time soon.
Leave a Comment
About the Contributor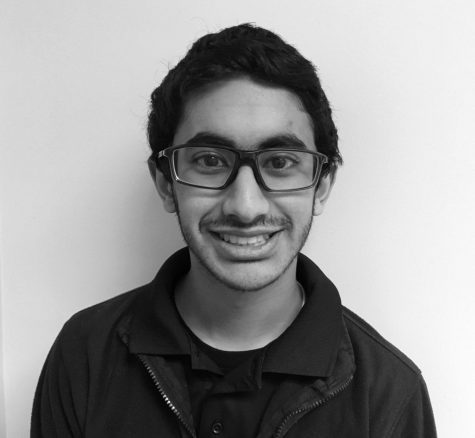 Rahul Harve, Features editor
Rahul is a senior and has attended AMSA since 6th grade. This is his first year writing for The AMSA Voice, and he decided to take the class as he wanted...