AMSA's Pete Jones named athletic director of the year
Chances are, if you've been to an AMSA sporting event, you've seen a guy coordinating this and that and who seems to know everybody. This man would almost surely be Pete Jones, AMSA's athletic director. He is a beloved and respected figure in the community, and it doesn't take long to see why.
He works hard and clearly cares.
"There's nobody at AMSA more dedicated to supporting his program as Mr. Jones is," track and cross country coach Mark Vital said.
Mr. Jones was recognized beyond the AMSA community last month, when he was named the District 2 Athletic Director of the Year by the Massachusetts Secondary Schools Athletic Directors Association. The award is presented each year to an athletic director from one of the nine athletic districts in Massachusetts. 
"I'm just surprised he hasn't won the award before," Mr. Vital said.
Mr. Jones is in his seventh year as athletic director, having arrived at AMSA in February 2016. He takes on many responsibilities in his day-to-day job, from scheduling games and coordinating with other schools, to managing the logistics of sporting events.
His dedication doesn't stop there. He even goes so far as driving student-athletes to their practices and games himself if they need a lift. 
But for Mr. Jones, the best part of his job is just getting to see the athletes in action.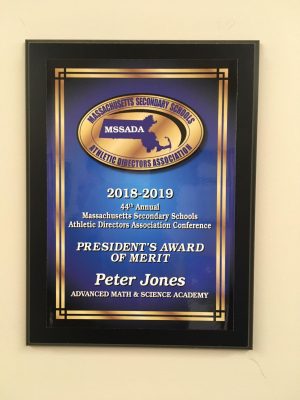 "My favorite part is when the dust settles and I can just watch you guys play," he said. "There are a lot of [factors going on], especially not having our own facilities and being at the mercy of other facilities, and I drive you guys there and we have to get it all set up, but when I can just sit and watch you guys play, that's definitely the best part." 
In addition to his work as AMSA's athletic director, Mr. Jones has spent the past two years as president of the Central Mass. Athletic Director Association with the goal of enriching the sporting experience for AMSA students.
"You guys are definitely the motivating factor," he said. "AMSA is a unique school and we're a unique athletic department. There's no way around it. But I want you guys to have the most normal, rewarding, worthwhile athletic experience that kids get to have in high school." 
AMSA coaches are often the first to recognize Mr. Jones and his efforts. 
"You will not find an athletic director more committed than Mr. Jones," varsity volleyball coach Joe Bengiovanni said. "He goes the extra mile to make sure that all student-athletes have the support they need to be able to compete and succeed." 
Student-athletes at AMSA also experience Mr. Jones' commitment to not only his job as athletic director, but also to interacting with the athletes themselves.  
"It's a lot more work than you would think," said senior volleyball and basketball captain Madelyn Webster. "Setting everything up, being on top of your athletes, forming personal relationships like he does, and just the time and commitment it takes to be at all the events and organize everything." 
So the next time you see that guy shaking hands and organizing everything, realize that you're in the presence of the person largely making it all possible.
"He's very positive and very supportive of all athletes at AMSA," said senior swim captain Jesse Matijevic. "He is always there for us, so of course I think it's deserved that he won this award." 
Leave a Comment
About the Contributor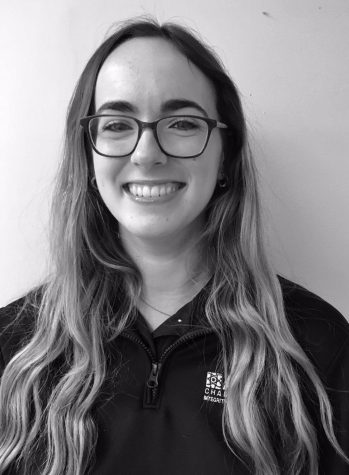 Ashley Correll, Sports editor
Ashley is a senior, and this is her first year writing for The AMSA Voice. She has attended AMSA since 6th grade and is excited to further her involvement...