An unexpected bit of senior freedom
Last April, when students returned to campus after more than six months of remote learning in the middle of the Covid pandemic, AMSA administrators were eager to lower the number of students in classrooms by enacting a senior privilege: seniors could leave campus during any of their scheduled study halls.
In a surprise to most current seniors, the administration reinstituted the privilege in the second quarter of this school year. 
"The senior privilege was very unexpected," said Sitara Hoque, president of the senior class. "But I am super thankful for it."
The question that immediately came to mind was what prompted the bump in senior independence? 
"We wanted to give them the freedom that they deserved," Vice Principal Amanda Cence said. "They have been working hard for almost seven years. I think they earned it."
Principal Mike Nawrocki had similar thoughts.
"It was a nice opportunity for the seniors of last year to have the freedom," Mr. Nawrocki said. "I wanted to continue that this year."
According to Ms. Cence, the 12th grade student government requested senior privileges to be cell phone use during study halls and the ability to order lunch anywhere, not just from Panera and Domino's Pizza. Ms. Cence thought that continuing the privilege would enable the seniors to do that outside of school. 
Many AMSA staff members, such as senior class advisor Bethany Bartolini Sepe, are concerned that the seniors may not manage their time wisely, resulting in students being late to, or missing, sixth period classes.
"The teachers can leave campus when having a free period," Mrs. Sepe said. "There are some days that the traffic gets so bad that I have to go back to school extra early, so I don't go to class late. I am not sure if the seniors will act accordingly like that."
The early returns were positive.
"I am confident that the students will take [the senior privileges] seriously," Mr. Nawrocki said. "After a week, I heard of zero teacher reports of students being late to class from using their senior privileges."
There are concerns from the students as well. AMSA uses a QR code system to track who is leaving campus during study halls. Seniors scan the QR code displayed in the White Building main office and in front of the Upper School front office, providing information in an electronic form.
"It is a hassle to use the QR codes," senior Victoria Turner said. "Sometimes it works, sometimes it doesn't."
Victoria elaborated that the QR codes had trouble recognizing her school account,  making it difficult for her to use. 
"Why can't we fill out the Google Form using several chromebooks, similar to what we do in the nurse's office?" senior Sonal Gupta asked. 
The form at the nurse's office asks for the student's name, grade, and whether they are arriving or leaving. Many students, including Victoria and Shreya Suresh, asked a similar question.
"It would make the process quicker," Shreya said.
Sonal mentioned that it sometimes takes as long as five or 10 minutes to have the QR codes work. That time, coupled with transportation, means there isn't much time for the seniors to use their privilege.
Despite the cons, the seniors recognize the many pros.
"Leaving campus helps me decompress from academic stress," Shreya said.
Many seniors use their privilege to work more productively. Victoria, for example, takes advantage of the time to study in different environments such as in Panera or Starbucks to do her homework while getting a small bite to eat. Other students use the time simply to relax.
"I had a similar privilege when I was in Ashland High School back in 2009," Mrs. Sepe said. "I loved it, and I'm sure the seniors will as well. This privilege gives the students a taste of the college experience, especially when the students have to learn about time management."
The AMSA administration is monitoring the situation, and it will implement new rules and regulations if necessary.
As far as questions about liability issues off campus, seniors acknowledge when they sign out that AMSA can't be held responsible for students until they return to school.
Students' parents or guardians also had to sign an online form granting permission and waiving responsibility. 
Leave a Comment
About the Contributor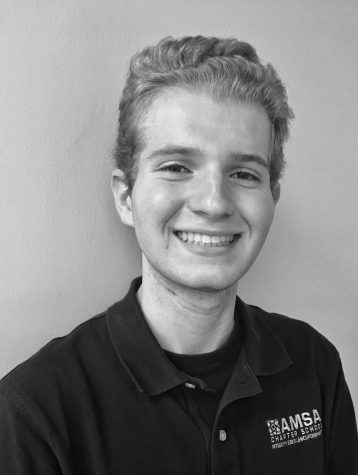 Philippos Paschalides, A&E editor
Philippos is a senior and has been attending AMSA since 6th grade. This is his first time writing for The AMSA Voice, and he hopes to expand his ability...