Biden calls for cooperation, but he (and the country) face a harsh reality
President Joe Biden delivered his annual State of the Union address last month, utilizing the most prominent tool of the bully pulpit in American tradition. His message was one of hope and optimism for the country despite economic setbacks and severe political division. 
Mr. Biden emphasized the importance of Republicans and Democrats coming together to "finish the job," a phrase he used a total of 13 times throughout his 73-minute speech.
The yearly speech, no matter the president or party, is doomed to be a political one and stress optimism even in the face of harsh reality. Despite Mr. Biden's attempts to rhetorically bring both parties together, he faced a fair amount of heckling from Republicans in the chamber, and even more in the days and weeks that followed. 
The act of heckling during a State of the Union address was almost unheard of until Barack Obama assumed office — and even then it was seen as an aberration. In 2009, when Rep. Joe Wilson (R- S.C.) shouted "you lie" at Mr. Obama during his speech, the entire House passed a formal resolution of disapproval. 
In the years since, and particularly over the past seven years, such behavior has largely been normalized. This year, Republican lawmakers berated Mr. Biden throughout his speech without any repercussions. 
The actions of select and prominent Congresspeople, particularly Rep. Marjorie Taylor Greene (R-Ga.), do not give the American people hope for Mr. Biden's vision of a bipartisan, collaborative future.
It creates a sense of fear.
This was amplified by Ms. Greene, who shouted "liar" at Mr. Biden, in her tweets and comments in the weeks after the speech calling for a "national divorce," dividing so-called "red states" and "blue states" into separate entities. Her remarks reflect the dangerous and increasing polarization in America, which is already at an all-time high.
"We need to separate by red states and blue states and shrink the federal government," Ms. Green tweeted. "Everyone I talk to says this. From the sick and disgusting woke culture issues shoved down our throats to the Democrat's traitorous America Last policies, we are done."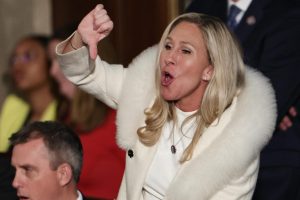 While the notion of a "national divorce" is not possible because there is no Constitutional way for states to secede, Ms. Greene's divisive ideology is still incredibly dangerous. She is essentially rejecting the democracy in which we live. 
The Republican heckling occurred throughout Mr. Biden's address, but it was especially prominent when the president accused members of the Republican Party of wanting to scale back, privatize, or even eliminate Social Security. 
He was primarily referring to a proposal by Sen. Rick Scott (R-Fla.), who called for "sunsetting" laws that pertain to Social Security, Medicaid, and Medicare every five years.
"Liar," a number of Republicans shouted at Mr. Biden, led by Ms. Greene. 
The state of the nation that Mr. Biden painted in his speech was full of optimism and opportunity, but unfortunately it is not reflective of the current state of the country, exemplified by the extreme party divide seen during the address itself.
Mr. Biden outlined his economic plan, which focused on reducing inflation by producing American-made goods, which in turn will create jobs, he said, and rebuilding the American economy through the middle class.
It can be argued that his targeting of the middle class marked the start to a 2024 re-election bid.
Mr. Biden also spoke at length about his plan to improve infrastructure with the passing of the Bipartisan Infrastructure Law, the largest investment in infrastructure since President Eisenhower's Interstate Highway System.
The theme of American-made products came up again with the introduction of new standards that require all materials used in federal infrastructure projects to be made in America.
Mr. Biden touted the fact that the Medicare system has been given the ability to negotiate drug prices, which will not only save older Americans money, but it will also cut the federal deficit, saving taxpayer dollars as well.
But when Mr. Biden talked about his plan to end the fentanyl crisis, the heckling picked up again.
"It's your fault," Rep. Andy Ogles (R-Tenn.) yelled. It was a veiled reference to a perceived border crisis, and another Congressperson shouted an expletive.
Mr. Biden segued into a call for the wealthiest corporations to pay their fair share of taxes, and he highlighted a signature policy in which billion-dollar companies pay a minimum tax of 15 percent, while no individual earning less than $400,000 a year will pay more in taxes. 
"Let's finish the job and close the loopholes that allow the very wealthy to avoid paying their taxes," the president said.
The heckling subsided when Mr. Biden called for police reform. He talked about Tyre Nichols, a victim of police brutality, in the presence of Mr. Nichols' parents. 
Mr. Biden also called for enhanced gun laws, as well as a renewal of the assault weapons ban.
The State of the Union address is usually very nationalistic and paints both the president and the country in a positive light, and the content of this year's speech was no different.
There was a difference, however, in the atmosphere and etiquette of the audience. It shined a light on a shift that is a major concern for the actual state of the union.
Leave a Comment
About the Contributor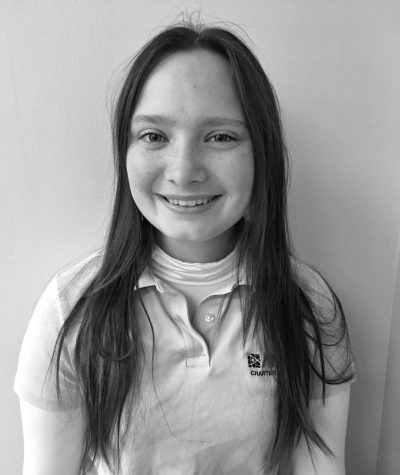 Tara Gorman, Photo editor
Tara is a senior, and it is her first year writing for The AMSA Voice. She has attended AMSA since 6th grade and is excited to make writing for The Voice...