Boyhood stands at the top, even if Oscar disagrees
The 87th Academy Awards were distributed Sunday and, ostensibly, the top films of 2014—and the people responsible for them—were honored accordingly.
It's a nice thought in theory, but often the best films and the most deserving performances and achievements are not rewarded with Oscars for various reasons, from politics to the demographics of the Academy itself.
All of that aside, below are my picks for the top 10 films of 2014. Birdman, which took the Best Picture Oscar after the clock struck midnight, was great, but it doesn't soar to the top here.
10. Nightcrawler. This dark, edge-of-your-seat thriller and character study from first-time director Dan Gilroy follows Louis Bloom (Jake Gyllenhaal) as he becomes obsessed with video "journalism" and creates a small freelance business for himself. The film is an effective satire of modern television news and the media at large. The film is filled with gloomy shots of Los Angeles' underbelly. Gyllenhaal is haunting as a budding sociopath who never seems to blink. He is fierce and motivated and viewers are never quite sure what he'll do next.
9. The Grand Budapest Hotel. Director Wes Anderson has possibly created his best movie to date. The film is original, funny, and very entertaining. It follows a lobby boy named Zero (Tony Revolori) who becomes friends with Gustave H. (Ralph Fiennes), the hotel's legendary concierge. Anderson's unique visual style is marvelous: very colorful, with beautiful art direction and costumes that really pop, establishing Anderson's quirky tone. A few scenes contain obviously painted backgrounds and models, but it never seems fake or cheesy. It only improves upon the style and tone of the film in the way that it emphasizes the unusual and lighthearted characters.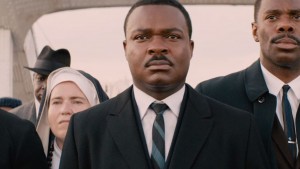 8. Selma. This is the emotional story of Martin Luther King Jr.'s (David Oyelowo) mission to get proper voting rights for blacks in the city of Selma, Ala. in 1965. Director Ava DuVernay creates a tragic and compelling film that is full of scenes that shock, disgust, and sadden audiences with their raw power, but others that will also have them cheering at how far we have come and how much Dr. King has impacted America. Oyelowo gives a career performance—some might say tragically overlooked—as the strong and determined Dr. King, but he also conveys the inner struggles and worries of an American icon as he yearns to protect his family as well as his cause.
7. Wild. Director Jean-Marc Vallee is back after last year's Oscar–winning Dallas Buyers Club. Wild is a powerful character study about finding oneself through nature. The film follows Cheryl Strayed (Reese Witherspoon) as she hikes a thousand miles after her failed marriage and the death of her mother. The film is an emotional piece of filmmaking that, like Dallas Buyers Club, relies on flashbacks to help tell the story and search into the mind of Cheryl. Witherspoon gives a real and gritty performance as the confused but hopeful hiker, daughter, and lover.
6. The Imitation Game. Director Morten Tyldum has crafted a complex, based-on-true-events film about British scientist Alan Turing (Benedict Cumberbatch), who cracked Germany's Enigma code in World War II. He arguably saved millions of lives and helped to win the war, but his government persecuted him because of his homosexuality. Just as Turing must piece together the puzzle that cracks the "unbreakable code," Tyldum gradually reveals pieces of Turing's "life puzzle" until the heart-wrenching finale. Cumberbatch gives the best performance of his career as the brilliant but misanthropic Turing, who struggles with his own imitation game.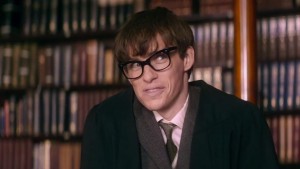 5. The Theory of Everything. Director James Marsh paints a vivid, poignant portrait of astrophysicist Stephen Hawking, whose body betrays him even as his mind remains intact to tackle the secrets of the universe. Marsh somehow strikes a balance between heartbreak and joy in bringing to life a man who has spent half a century defying the disease ALS. The film is visually beautiful with creative use of light and smooth shots that glide across the screen. Eddie Redmayne gives one of the greatest performances of recent years, calling to mind the Oscar-winning performance of Daniel Day-Lewis in My Left Foot. Redmayne, who won the Best Actor Oscar, completely changes himself physically and we never see an actor on the screen—it is Hawking himself, in all of his brilliance, awkwardness, and subtle charm.
4. Whiplash. How much is too much when it comes to wanting to be the best, and what is the price of greatness? These are the questions presented by director Damien Chazelle, who explores the answers by creating a wide range of emotions. With lots of close-ups, he allows the viewer to experience anger, frustration, sadness, disappointment, and joy along with the characters. J.K. Simmons, who won the Best Supporting Actor Oscar as expected, gives a career-defining performance as the intimidating, foul-mouthed, drill instructor-like music teacher who expects nothing less than perfection from his students. It is a powerful film that also has some epic drum solos.
3. Foxcatcher Director Bennett Miller has created a mesmerizing film about two wrestlers (Channing Tatum and Mark Ruffalo) who are summoned by millionaire John du Pont (Steve Carell) to train for the Olympics. Miller creates a very dark and uncomfortable environment and viewers can't help but watch events unfold. Miller creates an incredibly tense film with long but engaging scenes of dialogue between characters played brilliantly by actors at the top of their craft, particularly the Oscar-nominated Carell. Tatum and Ruffalo are also terrific with their ape-like walks and sense of confusion about the man they are forced to work with.
2. Birdman. This is a masterful technical achievement by ambitious filmmaker Alejandro González Iñárritu, who picked up the Best Director Oscar. The film consists of a string of seemingly unbroken shots that gives the illusion of one long take. In addition to being a technical masterpiece, Michael Keaton gives the best performance of his career as a struggling actor with mood swings and frequent fantasies about being relevant and accepted again by the world and his own family. The rest of the cast give incredible performances with Emma Stone and Edward Norton standing out.
1. Boyhood. Director Richard Linklater has created a timeless and touching film that will go down in history. From the 13 years it took to make to its down-to-earth and relatable story about growing up, the film follows 5-year-old Mason (Ellar Coltrane) as he grows into an 18-year-old college freshman. As a viewer, it is incredible to watch this boy actually grow up on screen. But it's not just the risky filmmaking that makes this movie so great—it is the beautiful and simple story about life itself. The film is colorful and the editing makes the years flow seamlessly. Ethan Hawke and Patricia Arquette, who picked up the film's lone Oscar, both give some of their best work as the struggling divorced parents who love their children—and who must grow up with them.
View Comments (2)
About the Contributor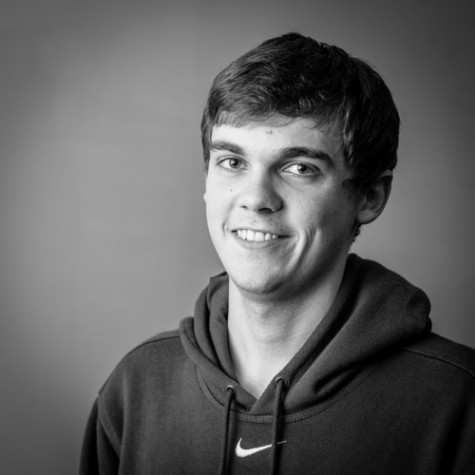 Nathan Richardson, Features Editor
Nathan Richardson is a truly talented and gifted individual. He has been a student at AMSA since 8th grade. He is now a senior and still does not really...