Breaking the scientific glass ceiling
According to the National Girls Collaborative Project, which studies the presence (or lack thereof) of women in the science-technology-engineering-math (STEM) realm, women made up only 13 percent of engineers in the workforce, and 25 percent in computer and mathematical science occupations, in 2014.
These kinds of statistics are becoming popular topics of discussion across the country, with most hoping that these numbers can quickly increase.
"Younger girls may like computer science in middle school, but as they get older and go through high school and college, they slowly drop it because of the bias in the field," AMSA senior Shrutika Ruhela wrote in a statement for The AMSA Voice.
For women in particular, that is the overriding issue. There is a palpable sense that the sciences are a male domain. Shrutika went on to explain that for things to change, people must first address this problem, and only then can plans be made to fix it.
AMSA computer science teacher Padmaja Bandaru was invited to take part in a panel discussion at UMass-Boston on March 24 that focused on diversity in the STEM field, with an emphasis on the lack of women.
During initial discussions with event coordinators, she mentioned that one of her students, Shrutika, was a winner of the National Center for Women and Information Technology Aspiration Award. Shrutika was then invited to join the panel along with other state winners.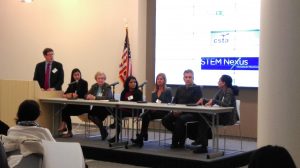 The event included a meet-and-greet with policy makers, including Lt. Governor Karyn Polito and Rep. Joseph Kennedy III; a screening of the documentary Code: Debugging the Gender Gap; and a discussion following the screening with panel members sharing their personal experiences in male-dominated fields.  
As Shrutika and fellow seniors Kasandra Yee, Natalie Reed, Christine Hsieh, and Priyanka Shah headed into Boston on that Thursday, one thing was on their minds: They wanted to make a change.
"Despite the number of job opportunities in computer science, women remain significantly underrepresented in this male-dominated field," Priyanka explained.
These girls have studied computer science in a competitive, but welcoming environment. AMSA students, boys and girls alike, are celebrated for their hard work. They are encouraged to strive for greatness, and the girls are certainly not discouraged to pursue a career tagged by some as for "men only."
"Having computer science as a mandatory subject in middle school gives everyone the same foundation, so girls are not discouraged later," Shrutika said.
Ms. Bandaru then expanded on this, explaining that because both girls and boys are introduced to computer science at an early age, and are supported by their teachers in their studies, they develop confidence. The issue people all over the country are addressing right now is that this kind of confidence, this specific attitude, does not exist everywhere.
Girls are just as capable as boys when it comes to excelling in scientific fields, despite lingering biases.
For now, the AMSA girls are working to effect change by advocating, discussing, and fighting to make their voices heard, in the hope that one day there will be real and lasting change.
"While there is still a lot of work to do, with initiatives promoting awareness of the issue we can try to bridge the gap with respect to equity in general," Ms. Bandaru said.
Leave a Comment
About the Contributor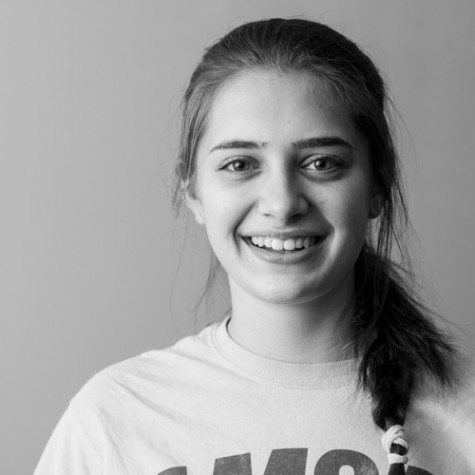 Rebecca Perlin, Senior writer
If you asked Rebecca's friends how they would describe her, they would probably say compassionate. She cares a lot about her friends, and always tries...