Dr. Lewis named AMSA's acting executive director
Dr. McCleary steps down after offsite planning session
On Feb. 7, the AMSA community received an email that could be described as mildly surprising to some and shocking to others: Dr. Joseph McCleary had resigned, and Dr. Anders Lewis was named acting executive director of the school.
The email, sent by Board of Trustees Chair Pauline Jen Ryan, pointed to events of Jan. 28, when various school stakeholders gathered for the school's annual offsite planning meeting, as the catalyst for the move.
"During the course of the retreat and in ensuing discussions, the Executive Director, Dr. Joseph McCleary, concluded that there are extensive differences among the various school stakeholders," Ms. Ryan wrote. "As a result, he has resigned to pursue other opportunities."
The announcement brought to an end an administration that lasted just 18 months. Dr. McCleary was named executive director on April 7, 2015. He took over for interim Executive Director Dr. Mary Ann DeMello, whose tenure lasted 11 months. She took over for John Brucato, who stepped down as executive director the previous July.
It has been a whirlwind three years for the school, which has seen four executive directors and four principals in that time. It has left many wondering what it will take to stabilize leadership–and even what form that leadership should take.
"If we really want Dr. Lewis to be a successful, long-term leader at AMSA, it is imperative that we support him," history teacher Jessica Bowen said. "Let's demand less of him and more of ourselves."
Dr. Lewis is among a handful of people who have been at AMSA since its founding in 2005, serving as the school's only history department chair.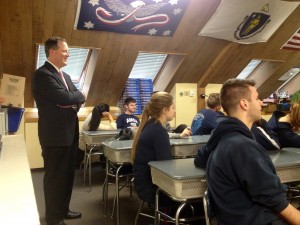 "I love this school dearly and it has been a joy to teach these kids and be supported by a wonderful team," Dr. Lewis said. "I have been with this school since even before it was established, allowing me to truly see it change into the institution it is today. I am heartened by the fact that we have amazing teachers and an amazing administration, making for an amazing team that we can work with to help this school."
Dr. Lewis has long been admired and respected by all stakeholders.
"Throughout his tenure, his passion for teaching and his belief that all students are capable of growing beyond their own expectations have been evident to the AMSA community," Ms. Ryan wrote in her email. "In addition, Dr. Lewis has been an outstanding collaborator and innovator and garnered the respect of his fellow administrators, teachers, parents, and students."
One of the few downsides to the move is Dr. Lewis having to give up some of his teaching load to assume administrative responsibilities.
"When I learned that [Dr. Lewis] had taken the position of executive director, I knew that the class' loss would be AMSA's gain," senior Logan Snow said. "Dr. Lewis, having been with the school since its founding, truly embodies the spirit of the institution. I have no doubt that for as long as he chooses to lead the school, AMSA will be in the best of hands."
Though people are left pondering the reasons for Dr. McCleary's resignation, many are taking solace in Dr. Lewis' appointment. Martha Richardson, an English teacher and former English department chair, is one of them.
"Dr. Lewis is a very humble man and wants to tap others for resources," she said. "He is extremely open-minded and wants to listen to others, which is something very important in a leader. He has a passion for education and AMSA, and is very good at conveying it."
But because executive directors have not lasted long at AMSA, and turmoil seems to consume all administrations before they come to an end, the question naturally becomes whether Dr. Lewis will change the role or whether the role will change him.
"We have everything we need to make AMSA the best school possible," Dr. Lewis said. "All we need to do is listen, respect, and uplift each other. As long as we get everyone focused, there is nothing we can't accomplish."
Leave a Comment
About the Contributors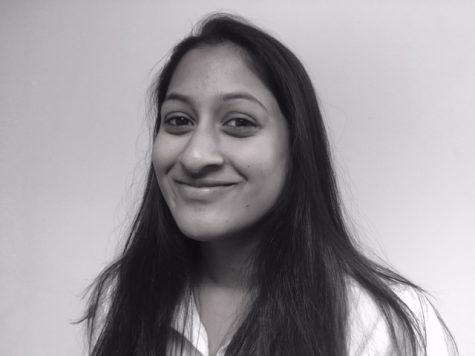 Jyotika Vallurupalli, Co-editor
Jyotika is a senior, and hopes to enjoy her final year at AMSA. She thoroughly enjoys speaking and having a spirited debate, which is shown in her passion...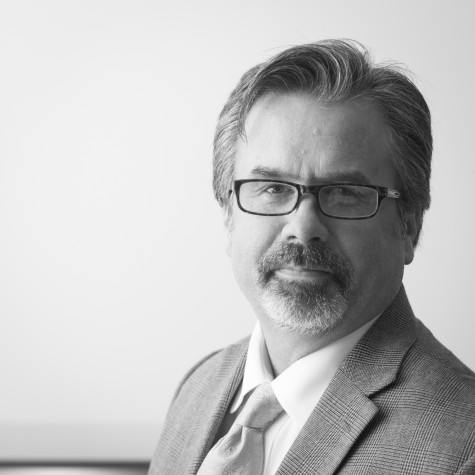 Steven Smyth, Executive editor
Mr. Smyth, an English teacher at AMSA for the past nine years, is The AMSA Voice adviser and executive editor. He currently teaches Journalism, Advanced...