If Browns guessed wrong, Jets and Broncos won the draft
The 2018 NFL draft has come and gone and with it the futures of many NFL teams are up in the air with the season just two months away. In one of the most unpredictable drafts in recent memory, surprise picks came between pick one and pick 256.
The following is an analysis of the top five picks and what it all means as the countdown to the preseason begins.
Baker Mayfield, QB, Cleveland Browns
The Browns have a long and well-documented quarterback problem. Since 1999 they have gone through 28 different starting signal-callers. The Browns were determined to fix this problem with the top pick and they had their choice of five legitimate prospects.
Cleveland went with Mayfield, the senior out of Oklahoma. It came as a shock to many people, despite the fact Mayfield won the Heisman Trophy. The Browns clearly see something with him.
Mayfield has immense skill. He is a very talented thrower who is extremely accurate and has underrated arm strength. He is quick on his feet and can dodge pressure coming from all sides. All of these sound like fantastic attributes for an NFL quarterback to have, and they are.
However, there are many flaws with his game that many experts and scouts said should have kept him from being drafted No. 1. Mayfield has been scouted as "falling short of size marks for traditional early-round quarterback, needing to improve on scanning the whole field, and extending plays too far and taking unnecessary sacks," according to the NFL's official website.
My Grade: B
Saquon Barkley, RB, New York Giants
Barkley is an absolutely electric player. He is widely regarded as one of the best running back prospects coming out of college in a long time. In his time at Penn State he was a dominant rusher, receiver, and returner. He has one of the highest floors in the draft to go along with one of the highest ceilings as well.
In the 2017 NCAA season, Barkley rushed for 1,271 yards and gained a total of 1,903 yards from scrimmage. With a total of 21 scored touchdowns, he was a Heisman contender the entire season.
The Giants have not had a dominant runner in a long time, and it's been a dozen years since they had even a solid back in Tiki Barber. They hope Barkley fits the bill.  
Quarterback Eli Manning is aging and his ability to play, and well, for a few more years is a massive question mark for the team. Most would agree that a quarterback is the keystone for a franchise's success. With no clear successor in sight, many were surprised the team didn't opt for Sam Darnold, the consensus best quarterback available.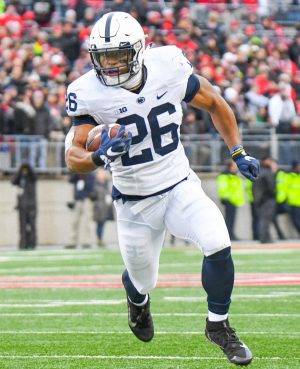 Barkley has all the tools to be a star. The question is will he be the guy the Giants can rely on to lead them back to the Super Bowl.
My Grade: A-
Sam Darnold, QB, New York Jets
The Jets could have the steal of the draft with this pick. Darnold has shown himself to be a sensational college prospect throughout two big years at Southern California. He has had interception problems, but they have often been the result of rushed throws — emblematic of a poor offensive line.
He has shown himself to be a leader, has a strong arm, has good accuracy, and has great field presence.
Surrounded by minimal talent in comparison with other big-name programs, Darnold still threw for 4,143 yards and 26 touchdowns last season. The Jets are in dire need of a franchise quarterback and it is possible that both the Browns and Giants will, over the next decade, regret not choosing him.
My Grade: A+
Denzel Ward, CB, Cleveland Browns
The Browns had every chance in the world to have an absolutely incredible draft. With the first pick they could have chosen the best quarterback available in Darnold. They chose Mayfield instead and with this pick they could have chosen the best defensive player available in Bradley Chubb, but opted for Ward.
To say the Browns settled in the latter instance may not be completely fair, as Ward is a  great defensive prospect out of Ohio State. Again according to NFL.com, Ward has "allowed just over 32 percent completions over last two years," has "tremendously gifted footwork," and has "supreme athletic ability." The Browns also had a hole to fix at cornerback with the departure of Jason McCourty.
But the Browns had a chance to build the scariest young line in the NFL. Chubb, a defensive end out of N.C. State, was there for the picking. Obviously it is too early to judge, but the Browns may have missed out on an opportunity that very few NFL teams ever have.
My Grade: B-
Bradley Chubb, DE, Denver Broncos
If Darnold doesn't pan out then it is very likely that the Broncos got the steal of the draft with this pick. Denver is known for its stout defenses and adding a sensational college pass rusher is exactly what the team needs to be dominant again.
Chubb is now paired with Von Miller to form a very scary front seven, something the Browns could have had with Myles Garrett. Chubb has speed, strength, and a great defensive mind. He has all the perks that the great defensive linemen in the league possess and he also has a strong work ethic.
Even scarier, Chubb still has room to grow. He occasionally misses tackles as he goes too hard, but this is something that can be fixed with good coaching.
My Grade: A+
View Comments (1)
About the Contributor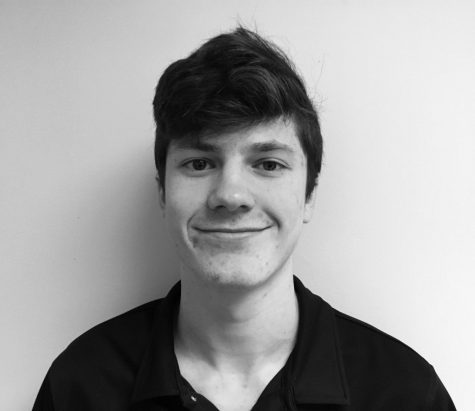 Connor Woodsmall, Co-editor
Connor is a senior. He has been attending AMSA since 6th grade and is looking forward to moving into college. This is Connor's second year writing for...