Red Notice is a grand waste of time and money
Red Notice begins with footage from a fake documentary about the three large golden eggs of Cleopatra. What follows is a two-hour movie that does not feel like it was made by a human being and somehow feels more fake than that opening beat. 
For starters, the casting in this movie seems to serve one purpose: put three recognizable faces on the promotional poster, which isn't necessarily bad, but only when there is a purpose beyond that. The chemistry and the performances in general here are the blandest imaginable, and these things are not aided by the script of writer-director Rawson Marshall Thurber (Dodgeball and We're the Millers). 
The characters are meant to be partners in crime, exchanging quips and jokes, but no one is cast well so it doesn't work. It's all just a flatline.     
The only casting decision that makes any sense is Ryan Reynolds, given that he has delivered some great comedic performances in the past. (Dwayne Johnson has also done comedy, but in no film that I find funny.) 
This movie attempts comedy, but it falls on its face every time one of the characters tells a joke or makes an attempt at a relevant cultural reference. Maybe if the movie had better writing it could have used Reynolds more effectively, and maybe every other aspect of the movie would be more forgivable. Sadly, it just isn't funny.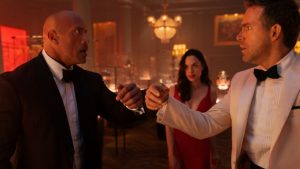 On top of this, the movie is shockingly generic, to the point it becomes laughable, but personally I found its biggest sin to be that it's boring — especially the action sequences. The concept of grand heists and thieves in movies is tired and filled with cliches, and this movie finds a way to seemingly use all of them.  
The budget of this Netflix movie was in the neighborhood of $200 million, yet it still looks cheap. Some of the swooping shots work well and look nice, but it just does not look like a $200 million dollar movie. For contrast, Denis Villeneuve's Dune, released late last year, had a $165 million budget, and it looks 10 times better than this movie. 
It is very sad to see Netflix dump so much money into such a production and not put its massive bankroll into something else, anything else. It feels like a step in the wrong direction for the streamer, given the top-notch films Netflix has produced over the past three years, including The Irishman, Marriage Story, Mank, and The Power of the Dog. It won more Oscars last year (seven) than any other studio.
Netflix does not need to worry about mass appeal for one film considering it gains profits from subscriptions, not box office receipts. It does not need to make terrible action-adventure films for profit, meaning it should focus on and fund filmmakers who actually need money to make films. 
A great example of this is English director Mike Leigh. He has had projects turned down by Netflix and cannot find funding. He is an important artistic voice in cinema, having won a Palme d'Or at Cannes for his film Secrets and Lies and a Cannes best director award for his 1993 film Naked.
If Netflix isn't willing to give him a fraction of the budget of Red Notice, then there is no hope left in the film universe.
Leave a Comment
About the Contributor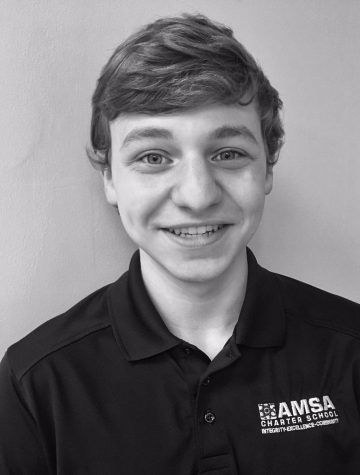 Nico Solimine, Staff writer
Nico is a senior from Hudson who has been attending AMSA since 6th grade, and he is writing for The AMSA Voice for the first time. He intends to inform...