School lunch: No way to please all the people, all the time
What makes a "good" school lunch?
For many families, deciding this often means choosing between a healthy lunch and a lunch that students will actually eat. At AMSA, many families rely on the school lunches for simple convenience — and these meals seem to have moved toward teenage tastes instead of nutrition.
AMSA brokered a deal with Catering Options, a local catering company, four years ago. When the meals first started rolling out, the plates were filled thoroughly with a variety of food groups and most students were satisfied.
"They have always been a little [bit] bad, but they used to be more balanced nutritionally. They've gotten more expensive," said senior Polina Tsurikova, who often orders the school lunches.
Since then, there has arguably been a decline in both the quality and quantity of food offered to students.
"It's gross. Disgusting. Fatty. Greasy. Not very healthy. It seems like they're taking the cheap route instead of the healthy," senior Samantha Johndro said.
A typical lunch consists of a main dish, a small side, a carton of chocolate or plain milk, and a piece of fruit, usually an apple or banana. Most of the dishes take up far less than the entire plate, and very few contain a variety of nutritional options, with the exception of the salads.
For many students, the best part of the lunch program is that there are a few options for each day. There is always a hot meal, a cold meal, a salad, or a vegetarian option. Despite the options, many are still unhappy.
Eileen Hebert, AMSA's lunch coordinator, explained that the changes in meals have been based on what the students seem to like.
"When we did have vegetables the Board of Health would say that at every school they're being dumped in the garbage," she said. She later added that she "pulled a few menus from other schools and we decided they wouldn't eat it."
Ms. Hebert also claimed that compared to other schools, AMSA lunch options are far more popular among students. She did not explain the basis for her determination.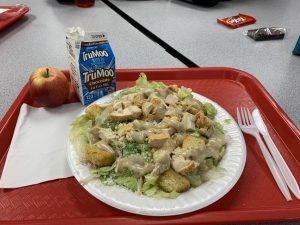 "When I look at the meals it seems like every item is covered," Ms. Hebert said. "If they want vegetables, they can have a salad. None of the schools are serving fresh fruit. Most of the schools are doing the very reduced fat milks and not offering the chocolate at all. Other schools don't have our vending machines."
Despite some offhand comments, students haven't explicitly expressed their unhappiness to administration — only among themselves.
"If anyone is unhappy there's an open-door policy here," Ms. Hebert said. "We have teachers walk around to make sure everyone is happy. [Vice Principal Mike] Nawrocki saw the pizza stick lunch and said it's a full meal."
She was referring to one of AMSA's most infamous hot lunches: Three pizza sticks and some marinara sauce in which to dip them.
At $4.75 per meal, many students agree that they aren't getting the most for their parents' (or their own) money.
Likewise, because the amount of food is consistently insufficient, a number of students rely on the vending machines and bringing extra food from home to get them through the day.
"On chicken tender day, you get three chicken nuggets," senior Julia Yanovitskaya said.
This is supposed to get students through a day that begins at 8 a.m. and ends at 3:15 p.m., with a school policy that does not allow for food in classrooms or in the hallways.
Ms. Hebert explained that the meals seem small in comparison to larger options from restaurants.
"For a senior ordering from Panera, the meals are [going to appear] much larger," she said. "We are looking at a lunch, not a dinner or a supper. What we are serving as a lunch is going to look a lot smaller."
Regardless, she explains that she plans to meet with administration and Catering Options to discuss meal sizes.
"My sister [a seventh grader] complains more than I do [to our parents] because I've gotten complacent with it," Polina said. "I complain to students mostly. I usually leave lunch still hungry if I'm ordering."
Even if students are complaining, parents haven't been issuing complaints, according to Ms. Hebert.
"I haven't heard from any parents saying the meals weren't nutritional," she said. "Some of the staff will come down and say, 'What smells so good?'"  
A large part of the lunch problem is AMSA's lack of facilities to produce meals on campus, forcing administration to work with costlier, outside catering companies.
Catering Options has been successful for so many years because of the proximity to the school, which allows the food to come in and remain at temperatures that easily meet safety guidelines.
Last year, AMSA announced an initial plan to purchase the current buildings on Forest Street, with a proposed remodel of the facilities. It would be only after the remodel that AMSA would have the capability to produce lunches internally.
Regardless of where the food comes from or whether students like the taste or if teachers like the smell, a meal minus vegetables and consisting primarily of fried or processed foods is not an ideal or especially healthy one.
The problem remains that students simply don't have many options.
Former First Lady Michelle Obama introduced Let's Move!, a program that emphasized healthy eating habits and exercise, with an emphasis on school lunches and meal proportions.
In addition, the Obama administration reworked the food pyramid recommendation chart into what is now known as MyPlate, a simple guide for fulfilling each food group.
At AMSA, that led to such things as beans being whipped into the potatoes.
"It isn't appetizing at all and kids didn't buy it," Ms. Hebert said. "We aren't following the national guidelines because people didn't like it."
Whether it's the simple convenience or the lack of options, participation in the AMSA lunch program is as popular as ever. But it leaves students and parents walking a tightrope and choosing between something students perceive as a tasty meal or one that is actually healthy.
Leave a Comment