School staff and students walk the social media tightrope
According to the U.S. Department of Health and Human Services, 71 percent of teens use more than one social media site, and 94 percent of those who access the internet on their phone do so daily.
If so many teens are using social media, it seems obvious that schools should be using it to communicate with their students — right?
As it turns out, combining the academic world with the social world of students presents its own challenges, as well as advantages.
For years, the closed Facebook group "AMSA Chat — Advanced Math & Science Academy" provided, for many, a helpful and informative platform for students, parents, teachers, and alumni to share accomplishments, ask questions, and discuss important topics. With more than 1,000 members, it seems safe to declare that as far as Facebook is concerned, social media communication has become an important part of AMSA life.
Two people at AMSA, Dean of Students James Frier and physical education teacher Megan Turner, have made focused use of social media to interact with students.
Mr. Frier's goal is to improve communication between students and faculty. In addition to his "Dean's Corner" emails, he has opened his Twitter account, @JSFrier, to students. It did not take students from all grades very long to begin replying, retweeting, and otherwise interacting with Mr. Frier online.
"I believe there is not much more important than the student voice so I go there [on Twitter] so that I can hear that voice, ask questions, and engage," Mr. Frier said. "When [students] aren't in school, they have time to process what went on during the day, and sometimes they want to communicate that."
"
I think that if you want to be a good communicator, you have to do that where [students] are."
— Jessica Bowen
Likewise, Mrs. Turner, a first-year AMSA teacher, uses her Instagram page, @mrs.turneramsape, to share games that her classes are doing with the goal of giving her students a heads-up to the classes ahead. Her followers are comprised of students and parents alike.
"It's beneficial to close the gap [between students and teachers], and I think it puts us all on the same level," Mrs. Turner said. "Plus it's something [students] are into."
Long-time AMSA history teacher Jessica Bowen also believes that social media can be a good outlet for communication. She has created Facebook pages for different groups, including her Quiz Bowl team.
"I think that if you want to be a good communicator, you have to do that where [students] are," she said.
Mrs. Bowen recalled that when email first started to become a popular form of communication, she gave her students email addresses — and other teachers viewed her as "crazy."
Just as email quickly became a game changer for communication, it seems social media appears to be a natural step forward in student-teacher interaction.
While corresponding with students more freely has its advantages, all three teachers agreed there can be downsides to social media interactions, too.
"Social media has come with new rules and practices, and making sure that communication stays professional can be tricky for people who are less experienced with it," Mrs. Bowen said.

Loading ...
Mrs. Turner feels that students' access and comfort with social media had the potential for inappropriate behavior.
"Communication can be inappropriate [in terms of] students leaving comments sometimes," she said.
Mr. Frier agreed, pointing out that lines can sometimes be blurred between appropriate teacher-student relationships.
"Some students are too comfortable [online] and don't use it maturely, and teachers are opening themselves up to that," he said. "We feel vulnerable putting ourselves and personal lives where students can access them, but it has its upsides."
The reluctance the teachers suggested concerning privacy seems to go both ways. While many teachers choose not to interact with students online to keep their personal lives separate from their school lives, many students similarly feel that the notion of using social media for academic purposes goes too far.
"I can say that [using social media to interact with teachers] is sort of invading the students' personal lives because it's their outlet for getting away from school, so it can feel like teachers are invading that outlet," junior Matthew Amuguni said.
Junior Ella Kinney sees the advantages and practical problems that come with interacting with teachers online and the trick is figuring out a balance.
"[The way] Mrs. Turner uses social media to inform us about what's going on in class is a perfect thing," she said.
In a world where most every child, teenager, and adult utilizes some form of social media, a connection between the social and academic worlds of students and teachers seems inevitable — but that doesn't mean it doesn't have its complications.
Like most tools, it's all in how it is used.
View Comments (1)
About the Contributor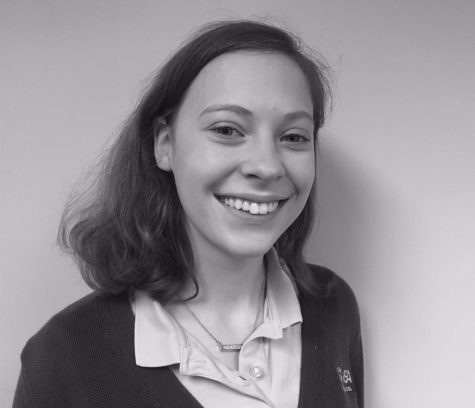 Emma Cohen, Editor in chief
Emma is a senior, returning to The AMSA Voice this year as editor in chief. At AMSA, she is involved in various clubs and organizations, such as AMSA JCL,...