The Old West in all its glory
Eight years after the release of its immediate predecessor, Rockstar Games' Red Dead Redemption 2 has blown away critics and gamers alike — enough to have it considered by many the frontrunner for game of the year.
Selling 17 million copies in the first 12 days of its release on Oct. 26, it has exceeded all expectations. It made a total of about $725 million in its first three days, which is second all-time only to Rockstar Games' Grand Theft Auto 5 in 2013.
With graphics optimized for state-of-the-art 4k televisions and consoles, a captivating storyline, and hyper-realistic gameplay, it's really no wonder this game has been so successful.
Focusing on the trials and tribulations of a gang in the western part of the United States at the close of the 19th century, players get to travel around as Arthur Morgan through his adventures with rival gangs, train and bank robberies, treasure hunts, and countless more.
I have played the game and I can say that it lives up to everyone's expectations. The game includes free range-style side missions in which players can earn extra cash and unlock secrets as well as having a structured storyline to follow. The gameplay is virtually endless — above and beyond about 60 hours of prime storyline.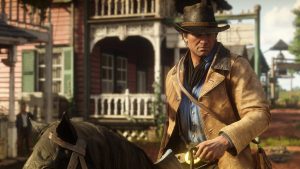 Though my playthrough of the game has been great, there is one problem that keeps running through my mind: Is it too realistic?
Over the past few years most relevant game developers — including Nintendo, Ubisoft, Rockstar, and many others — have turned their focus to creating a more realistic gaming experience. This has been made possible by continuing breakthroughs in computing power.
It's debatable whether these changes enhance the playing experience or if they merely create burdens for the player. For example, in Red Dead Redemption 2 playable characters as well as NPC (Non-Playable Characters) ride horses across endless vistas for what seems like hours as they travel from location to location.
Granted, during this time period riding a horse or hopping on a train were about the only means of transportation, but it seems as if there could be better ways of explaining the backstory other than having players engage in countless conversations or spending literally 10 minutes getting from point A to point B.
On top of that, there is the fact that the longer you play, the longer your hair and beard grow. You have to bathe. You have to eat. You have to clean your weapons. You have to feed and brush your horse. They are useless additions that just make you have to spend your money or precious daylight to shave and "look more presentable."
Though I think that they almost put a little bit too much effort into these parts of the game, it can be said that they also did a fantastic job balancing this with the actual storyline. With both of these aspects being so in-depth and precise it's really not a surprise it took eight years to be developed.
If sales and critical response are any indication — reviewers have offered overwhelming praise — then the game is a resounding success and gamers will no doubt be traversing this gaming universe online for years to come.
In fact, officials at Rockstar have hinted that the success may lead to a Red Dead Redemption 3. Just don't hold your breath waiting for a release date.
Leave a Comment
About the Contributor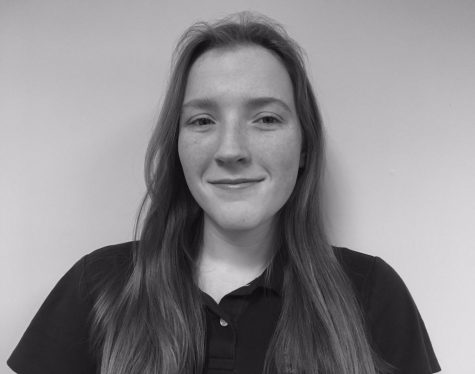 Ella Kinney, Entertainment editor
Ella is a senior who is very excited to be the entertainment editor for The Voice. Ella took up journalism in the hopes that it would improve her writing...