Will Tiger Woods make yet another comeback? History says don't count it out.
On Feb. 23, golfer Tiger Woods was involved in a single-car accident in Los Angeles County. He suffered severe injuries to his right tibia and fibula and reportedly shattered his ankle. Woods, who is no stranger to physical setbacks, has a long recovery ahead of him.
Beyond the hazy details of the accident itself, which has raised many questions, there is one that is directly sports related: Will Tiger play competitive golf again? 
In light of his ability to defy the odds throughout his career — which includes 15 major championships (second all-time) and 82 PGA Tour victories (tied for first all-time) — it would be foolish to count him out. Adversity has been a recurring theme in Woods' journey, following him throughout every stage of his life.
His first introduction to the spotlight was at age 2, when he appeared with his father, Earl, and legendary entertainer Bob Hope on The Mike Douglas Show. The cameras have yet to leave his side.
From his first steps to today, Woods has dealt with overwhelming pressure and attention. From the invasive coverage of his addictions and the subsequent disintegration of his marriage to the pressure to be a "racial messiah" of an historically white sport, Woods is well versed in navigating these situations.
"You can't forget that nobody fights back harder than Tiger," Paul Azinger, a 12-time PGA Tour winner and current television analyst, told Golfweek.
Woods grew up on the golf course, where his father taught him both the sport and his signature mental toughness. The atmosphere that Earl Woods created was rigorous and competitive at every level.
Tiger Woods was 16 when he played in his first professional tournament. He went on to enroll at Stanford University, turned professional in 1996, and won The Masters by a record-breaking 12 strokes in the spring of 1997 at age 21.
The legend was established and he changed the face of golf and sports marketing. Never, it seemed, did obstacles derail him until a sex scandal made public his numerous affairs even as a series of back injuries consistently interfered with his ability to play consistently.
Those who wrote him off then forgot their history. Those who write him off now do so at their peril.
In 1994, he was the youngest person to win the U.S. Amateur. He went on to become the only person to win the tournament three years in a row. 
In the blur of his turning professional and his mind-boggling Masters victory, Tiger was put front and center on the world stage by Nike. The company produced an iconic commercial, with Woods asking in an assertive voice that belied his youth, "I've heard I'm not ready for you — are you ready for me?"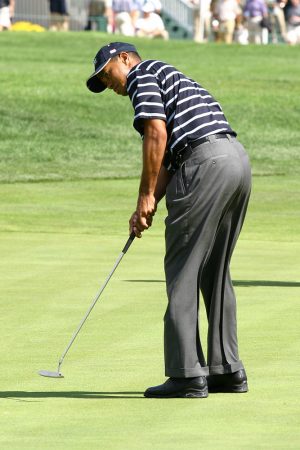 The legend, and the pressure, only grew from there. Every victory intensified it. Every record broken magnified it.
It all seemed new to the world, but not necessarily to Woods. Before he was a teenager, Woods was trained by a military psychologist to put himself into a trance in order to achieve a state of zen while playing golf. He was a top student with the grades to get into Stanford, one of the world's most prestigious universities.
He overcame racism on the country's most exclusive golf courses, long an exclusive bastion of white privilege. 
And he overcame personal crises and even his rebellious body, undergoing a risky spinal fusion surgery that allowed him to play competitively again when even he doubted it would ever be possible.
It was capped by a victory at the 2019 Masters, when virtually no one thought he would again ascend to the top of golf's pyramid.
Now comes perhaps his greatest challenge. Will he be able to recover after this car accident, the ensuing injuries, and all the other injuries that have accumulated over time and taken such an exacting toll? 
It is eerily similar — perhaps fittingly similar — to the car crash of another golf giant, Ben Hogan. Seventy-two years ago, Hogan was hit head-on by a bus, and he broke his pelvis, collarbone, ankle, ribs, and suffered blood clots.
Despite the similarities, there are differences. Woods is 45, while Hogan was 36. Woods had numerous surgeries and injuries prior to his accident, while Hogan had none. But Woods, who is in peak physical condition, also benefits from modern medical treatment and technology.
Hogan was told by doctors that he might never walk again, let alone play golf, but he went on to have his greatest success in the 1950s. 
Does anyone think that Woods isn't capable of doing the same?
Who knows what the rest of his life will look like. He may simply continue to mentor and watch his young son, Charlie, play golf and step away from his competitive career, which is matched only by Jack Nicklaus, winner of a record 18 majors. 
But it would be a mistake to dismiss Woods' tenacity and drive. He has spent his life defying the odds, silencing the naysayers, and conquering  setback after setback. It would be premature and foolhardy to count Woods out just now. 
"I will never stop believing that he won't make a Ben Hogan recovery until he doesn't," Woods' former instructor Hank Haney tweeted after the accident.
As Woods himself might say: Are you ready for me … again?
Leave a Comment