A bright message of hope in troubled times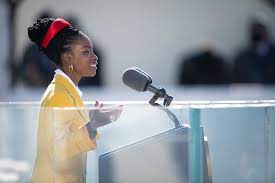 Hope is a hard commodity to come by these days, but Amanda Gorman may have instilled it in America with her poem "The Hill We Climb," which she recited at President Joe Biden's inauguration on Jan. 20. 
The former National Youth Poet Laureate wrote the piece after the storming of the Capitol on Jan. 6 — during the certification of Electoral College results — starkly highlighted the sharp divide in the country. The poem sent a message of strength, bravery, and commitment to the betterment of America needed to bring us out of darkness, and the hope she has for the nation. 
It was such a sensation that Ms. Gorman was invited to recite another of her poems at the Super Bowl on Feb. 7 — a first in the more than half century of the event's existence.
In "The Hill We Climb," Ms. Gorman sets a scene of rebirth, with a new day starting with the inauguration of Mr. Biden. The need for change does not come just from changing of leaders — it comes from us as a people. 
We must continue to change and speak up against injustice, Ms. Gorman says, because "we've learned that quiet isn't always peace, and the norms and notions of what 'just is' isn't always justice." 
Her poem perfectly acknowledges what the country has been through, over the past year in particular, and the steps we must take to continue to fix it, namely managing to remain respectful while also holding citizens and government accountable. In a time when it feels like every day is just a chance for more bad news, and anxiety is ever present, Ms. Gorman perfectly explains that we are a part of "a nation that isn't broken, but simply unfinished," reasoning that hope for a better future can still be reached while acknowledging our shortcomings as a country.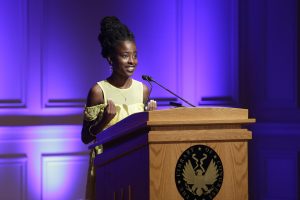 With voices everywhere crying that the "American experiment" is on the verge of failing, the idea of growth and renewal resulting from troubling times enabling the country to become even stronger is a breath of fresh air. Poetic lines such as "even as we grieved we grew; even as we hurt we hoped; even as we tired we tried" celebrate our resilience. 
In line with Mr. Biden's message of community and togetherness in troubled times, Ms. Gorman asks for a future of peace for all without alienation. 
Her call for people to "rise from the gold-limbed hills of the west, rise from the windswept northeast, […] rise from the lake-rimmed cities of the midwestern states, rise from the sunbaked south" brings the people of America together under the shared goal of growth, where "one thing is certain: if we merge mercy with might and might with right then love becomes our legacy."
Ms. Gorman invoked her own story to inspire hope, saying that "a skinny Black girl descended from slaves and raised by a single mother can dream of becoming president only to find herself reciting for one." 
Her message of overcoming struggles to reach greatness is echoed in her life; similar to Mr. Biden, Ms. Gorman has a speech impediment — but like the president, any obstacles placed in her way did not stop her from reciting her poetry on the Capitol steps. 
Ms. Gorman is far from finished. The poet, who became a youth delegate for the United Nations at age 16, still has her eyes on the ultimate prize — running for president in 2036. Forever looking ahead, Ms. Gorman reminds us that "There is always light, if only we are brave enough to see it; if only we are brave enough to be it."
Leave a Comment
About the Contributor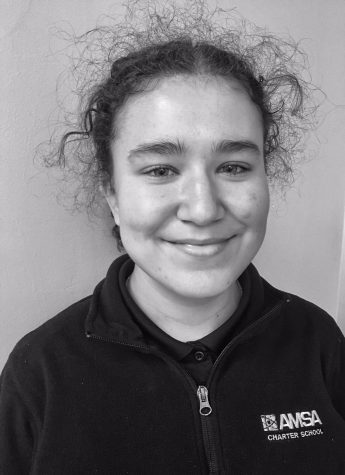 Tessa Donohue, Editor
Tessa is a senior, excited to write for The AMSA Voice for a second year. She has been at AMSA since the 6th grade and is a member of student government,...