Dig, set, spike: AMSA volleyball assumes center stage
The crowd is roaring, the bleachers are shaking with the celebration of excited students, and a parent is rallying the crowd for another point — one would assume that this scene takes place at a high school football game, but in typical AMSA fashion, the commotion is over a girls' varsity volleyball game.
Unlike typical American high schools, AMSA's "Friday Night Lights" aren't those on the football fields — rather, they hang above the Fore Kicks volleyball courts. The AMSA community rallies around the girls' volleyball team, which made it to the Massachusetts state semifinals in its 2021 season, and in doing so fostered an unparalleled spirit and bond among students, faculty, and families. 
"It started with the success that the team had in 2019, winning a sectional title and progressing to the state semifinals," said Pete Jones, AMSA's athletic director. "At some point during that playoff run, we hosted Millbury at Fore Kicks, and we had a good crowd. Students had a lot of fun at that game, and it really snowballed after that."
The Millbury game had a big crowd, the next game had a bigger crowd, and when fan buses were introduced, the crowds grew even larger.
"We took a fan bus to the Hopedale game later that season, and it was one of the best atmospheres I've ever been a part of in high school sports," Mr. Jones said. "It turned into a really fun experience, and not just for the team and the coaching staff — our student body began to see what it's like to have a fun student section and cheer for our school."
At high schools such as Hopedale, Marlborough, or Hudson, where the majority of students are from that city or town, it's not difficult for people to go home and come back later for a game. According to Mr. Jones, however, AMSA draws from about 30 different cities and towns, making it much harder for the community to come together and support its sports teams.
Additionally, AMSA doesn't have its own football team, which is the archetypal fall sport for high schools to rally around. Rather, AMSA shares a co-op with Maynard High School, forcing students to travel even for home games and to share their student section with people they don't know. 
"For schools with their own football teams, if that team is successful and has a good culture, it can set the tone for the entire school year," Mr. Jones said. "People just rally around football in that way. I think for us, though, because we don't have our own football team, volleyball has done that for our school. It's certainly good for morale."
Since the 2019 season, girls' volleyball games have been drawing crowds that no other AMSA team has seen before. Partially due to the past year in isolation, students are now more eager than ever to get involved again. 
According to senior captains Piper Kinney and Melissa Bibinski, the crowds this year set a new record, and they have the numbers to prove it: In this year's annual Dig Pink fundraiser for breast cancer research, the girls collected a total of $2,000, doubling their $1,000 goal. According to their coach, AMSA science teacher Joe Bengiovanni, it's the most they've ever raised.
"I think the girls really enjoy getting their friends to come and watch the games," Mr. Bengiovanni said. "People start to see what the team is doing, and it's pretty exciting, so word spreads around and they keep coming back."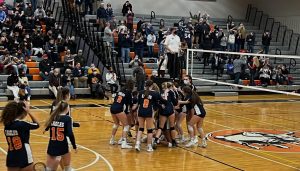 The team made it a point to advertise their games, spreading the word on Instagram and other social media platforms.
Though the girls admitted that the large crowds could sometimes be a lot of pressure, they agreed that the energy was beneficial for the team's attitude and overall performance. According to the players, the excitement of knowing people would be there, cheering them on, made up for the potential stress.
"We feed off the energy a lot," Melissa said. "I know it makes me play better, and I definitely think it makes us play better as a team."
Mr. Bengiovanni, who has coached girls' volleyball for 10 years at AMSA and recently earned his 200th career win, agreed.
"The crowds definitely make it more fun," Mr. Bengiovanni said. "It does put a little pressure on the team, but I think it's a good pressure — the earlier they get that pressure, the more prepared they are when it really matters."
That pressure has been on some of the players since 2019, with seven seniors on the team who witnessed the initial success and were determined to keep it going.
"The seniors have been playing together for a long time," Mr. Bengiovanni said. "They had a run in 2019 — some of them were starters, some of them still bench players — and they saw what happens when you progress forward. I think having that experience made the big moments more manageable for them."
The team's close bond is evident both in and out of games, on and off the court, and it's another part of what draws such large crowds — the dynamic is almost magnetic.
"Over the 10 years that I've been here, I've worked really hard to develop a culture where the kids play for each other," Mr. Bengiovanni said. "They give 100 percent effort all the time, and they have fun while they're doing it."
Mr. Bengiovanni stressed the importance of team culture in AMSA's girls' volleyball program — the culture that he fostered — and that playing for each other rather than just for themselves is what has made the girls so successful. 
"The team chemistry came through in the end, and that's what got us here," Piper said. The two captains told stories of themed practices spent blasting Taylor Swift, and explained that though they may seem counterproductive, these practices are the exact kind of thing that made their team dynamic so strong.
"Out of all the sports I play, I think volleyball practices are the most fun because we're all just having a good time," Melissa said. "Obviously the sport is fun, but so is just being with each other. It's a great atmosphere to play in, and it definitely translates onto the court."
It's not all fun and games, though. Another aspect of the team dynamic is effort: showing up despite excruciatingly long bus rides and the other teams' sometimes hostile crowds, and practicing constantly, even in the off-season.
"The girls work hard. They don't just put the volleyballs away at Thanksgiving and not take them back out until August," Mr. Jones said. "They have to keep at it throughout the year, and they understand that."
In the final game of the 2021 season, the girls' volleyball team experienced a tough, close loss to Ipswich, which eventually went on to win the state championship. Mr. Bengiovanni was astounded by the effort, even in defeat.
"It's something that I've never seen before," Mr. Bengiovanni said. "The kids fought so hard. They wouldn't give up."
AMSA's unrelenting persistence in the last two sets had all spectators on their toes, with the occasional student lifting two fingers to their neck to check their racing pulse. The team stubbornly fought off four season-ending points in the fourth set of the game and an additional three in the fifth, eventually losing the game by two. 
Their final season at its end after an 18-5 campaign, the seven seniors pulled each other into a tearful huddle on the court, perfectly illustrating the culture that Mr. Bengiovanni worked tirelessly to create.
"The girls pass the culture down to each other — the 2019 seniors passed it down to the current seniors, and next year it will remain," Mr. Jones said. "And I have to give credit to Coach Bengiovanni. That's what he's worked so hard to instill: the most important thing in that program is the culture and the family aspect. It's very hard to build, but once it's there, it's locked in."
One last image from the Ipswich game sticks out: The students in the bleachers who watched the seniors huddle soon joined the girls on the court, embracing and congratulating them on how far they had come despite the heartbreaking loss.
"That's the thing about AMSA," Mr. Jones said. "We go in a thousand different directions every day when that final bell rings, but we're still always rooting for each other. We want to see each other succeed."
Leave a Comment
About the Contributor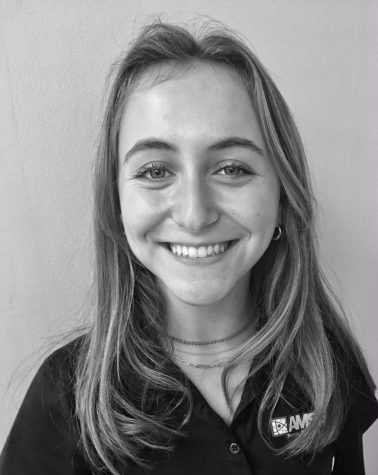 Catie Scott, Sports editor
Catie is a senior this year, and it is her first year as a writer for The AMSA Voice. She has attended AMSA since the 6th grade, and she is excited to...