Is Romano the right fit as next AMSA leader?
Winchendon principal seeks vacant position
On Thursday, students, teachers, and administrators had the opportunity to speak with the first of two finalists for the vacant AMSA principal position. Joshua Romano is currently principal at Murdock High School in Winchendon.
As an educator for nearly 17 years, Mr. Romano started his career teaching English and social studies at Lunenburg High School, before becoming the assistant dean of students there.
He became a vice principal at Murdock in 2012, before taking over as principal at the start of the current school year.
Mr. Romano said that he loves Murdock. He even knows all his students' names, and some even their backgrounds. The same goes for his staff.
"That is how you built a positive climate," he said.
But the school's precarious financial situation, he said, "makes working there difficult," and it is what led him to seek the opening at AMSA despite just five months at the helm in Winchendon.
Mr. Romano said a $5 million deficit is responsible for him having to lay off teachers and cut whole programs.
"[It is a] discouraging thing to feel helpless," Mr. Romano said.
Furthermore, he explained that getting parents involved is a challenge.
"It's hard to engage parents," Mr. Romano said while discussing that Murdock lacks an extensive PTO.
The natural question: Is Mr. Romano the right fit for AMSA?
His administrative experience at the high school level may lack depth, but his experience as a manager at the military level is much deeper.
Mr. Romano has been part of the Army National Guard for 24 years. He has worked with wounded soldiers and provided service to victims of Hurricane Katrina. He served two tours of duty in Iraq and even spent time at Guantanamo Bay in Cuba.
That experience has helped him to understand the meaning of collaborative working.
"People who work for you are the most important asset you have," Mr. Romano said.
"
Building trust takes time."
— Joshua Romano
During a Q&A session with parents, Mr. Romano was asked what challenges he sees at AMSA after speaking with the teachers, and what he hopes to do.
"Building trust takes time. I don't have that politician smile," he said, explaining that he wanted to build an atmosphere where educators feel they have the backing of the administration.
Long-term planning is in Mr. Romano's agenda as well.
"You need to have a focus that goes beyond [one year]," he said.
At Murdock, Mr. Romano has implemented a one-to-one iPad initiative, expressing his interest in technology in the classroom. He is also very big on special education.
"I don't believe in dumbing-it-down," he said, referring to special education students who were separated from their peers at Murdock.
At the same time, getting prepared for college is key. Mr. Romano wants to make sure that students have gained all the skills that they will need in the future.
"I don't want to make it all about the test scores," he said. "Input is important to me—from the parents, from the children."
There are differences between AMSA and Murdock, to be sure—from the size (Murdock's enrollment is about a third of AMSA's) to available programs to the cultural makeup of students—but Mr. Romano hopes to become part of the AMSA community.
One of the questions he asked students during his visit is what they'd like to change about AMSA. Their reply?
"'We love our school,' they said. It's a wonderful thing," Mr. Romano said.
Leave a Comment
About the Contributor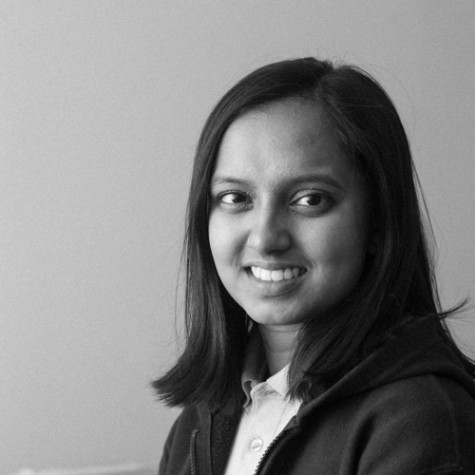 Anagha Indic, Co-Editor
Anagha Indic is one of two co-editors for The AMSA Voice and a member of the Class of 2015. Anagha is an avid learner in pursuit of an engineering career.

She...