Twists and turns lead Dr. Christopher Lord to AMSA
He hopes the fit is "just right"
On Friday, Dr. Christopher Lord, the second of two finalists for AMSA's vacant principal position, spoke with parents, students, faculty, and administrators regarding his desire for the job.
He met with the school community a day after Joshua Romano, the other finalist, visited the campus.
Dr. Lord has been in the education field for nearly 19 years, starting as an education technology consultant. He worked with Eduteam, an educational consultant firm based in New Hampshire, before becoming an assistant principal in the Middletown Public School system in Rhode Island.
"I knew that my profession would either be in education or medicine," Dr. Lord, whose father was a physician, told parents in the upper school cafeteria.
His first principal job was at Charles E. Shea High School in Pawtucket, R.I.
"The school nominated me for 2011 principal of the year," Dr. Lord said. "I got runner up to another principal, great guy, but I was honored to be nominated."
After nine years on the job, however, Dr. Lord was dismissed as principal in 2012 amid complicated circumstances. Despite a number of well-received programs he implemented, the state intervened at Shea because of graduation rate issues and, under a reform model called "transformation," the principal was required to be removed by law.
Dr. Lord was quickly hired as principal at Andover High School, where he spent more than two years. He resigned on Dec. 5 and, in a letter sent out by Andover Public Schools Superintendent Marinel McGrath, Dr. Lord stated that he was leaving to "pursue another career opportunity."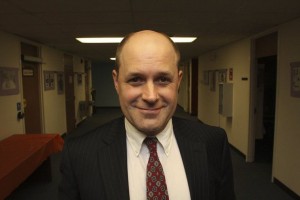 Dr. Lord said he was glad that his departure from Andover allowed him the opportunity to apply for the position at AMSA.
"You all know the Goldilocks story," Dr. Lord said. "I think that AMSA is just right for me, between an inner city high school and a large public high school."
Dr. Lord added that he was impressed with what he found out after extensively researching AMSA and its history.
"You have here a personal, small school that is still hyper-forming," Dr. Lord remarked. "You're ready to light the match under the rocket-ship. You are ready for the moon."
During his time at Andover, Dr. Lord added more guidance counselors and invested in school spirit, according to Deborah Muhlfelder, a mother of two students who attended the school under Dr. Lord's tenure.
"He accomplished everything he set out to do," Mrs. Muhlfelder said. "He actually got kids to care [and] to take pride in their school, which wasn't there before he came."
One of Dr. Lord's core beliefs is that relationships need to be established between him, his students, and peers wherever he works. He enjoys conducting various personality tests to learn about himself and others, and uses this to create relationships with teachers and administration.
Dr. Lord also spends a large amount of time creating bonds with students. He likes to walk into classrooms and ask students what they are doing, and tries to do this at least 10 times a day. In addition, he regularly invites students to have lunch with him and talk about school.
This approach was evident Friday, when Dr. Lord walked the halls at AMSA between meetings and introduced himself to students and asked them about the school.
Hannah Muhlfelder, who is currently a junior at Andover High, appreciated Dr. Lord as her principal, especially the lunches he had with students.
"He seemed to have a student with him for lunch every day," Hannah said. "I don't know how much he got out of it, but I thought that was cool. It forced you to see him as an actual person, and I've never had that before."
Both Hannah and her mother remarked on the spirit and pride that Dr. Lord brought to Andover, and how its effects improved the school.
"I have nothing but good stuff to say," Mrs. Muhfelder said. "I thought he was a great principal. We loved him."
If he is hired, Dr. Lord said his first goal is to listen and learn more about the AMSA environment. He is interested in the science and technology of AMSA, and hopes to keep the programs moving forward.
"It seems like life circumstances have provided both AMSA and me an opportunity to recover from recent past struggles and take each other to the next level," Dr. Lord said at the end of his meeting. "If the community feels the same way, I'd be delighted to be a part of it."
Leave a Comment
About the Contributor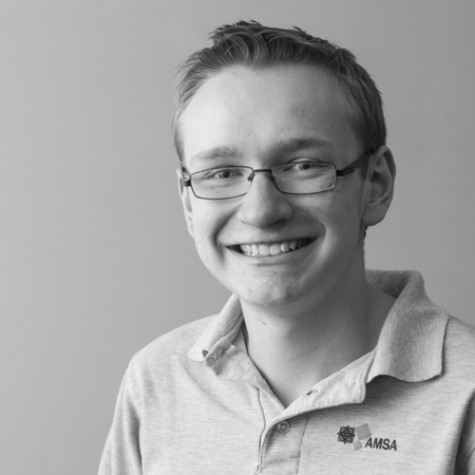 Chris Ludlam, Opinion Editor
Chris Ludlam, more commonly known around AMSA as Ludzy, is part of AMSA's Class of 2015. He has attended AMSA since 6th grade. He plans to study either...