The walkout: Why we did it
We didn't do it to talk about gun control. We didn't do it while hiding some sort of political agenda. We didn't do it to create a divide.
We did it to remember the events in Parkland, Fla., where 17 people, most of them our peers, were brutally massacred in their classrooms.
It was a friend who shared a post on Facebook about the #Enough National School Walkout last Wednesday that first brought my attention to what other students were planning. I looked into it and saw the movement was the work of 16 teens from across the country, two of whom were from Connecticut.
Immediately, I knew our school had to do something. As president of student government, a co-editor of The AMSA Voice, and an involved member in the community, I saw and heard many people grieving and felt there was something we had to do. Our feelings prompted us to act quickly and lead an event that could be a safe forum to express their grief and recognize what had happened to our peers in Marjory Stoneman Douglas High School.
I created a group chat and brought in three friends: Lydia Begag, Sam Frechette, and Reese Dikmak, who I felt would be interested in seeing some sort of event through with me.
We discussed the possibility of doing a walkout, a true protest, but immediately decided that a divided school was not a message we wanted to send. There was a brief moment when we considered planning something in the dark, without administration's approval.
By this time, colleges had already come forward in support of students who faced punishment for voicing their opinions. The students we mentioned our partial idea to weren't troubled by the idea of facing potential discipline and were comfortable with having it listed on their transcripts because it was an important issue and a risk they wanted to own.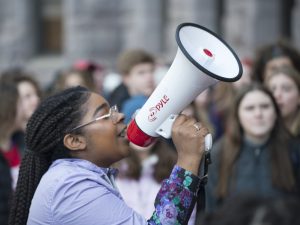 They wanted our school to react in a specific way that would show the struggle students have between themselves and adults. These students wanted to provoke administration in a way we did not want to.
However, that thought didn't even have a chance to fully develop before we decided a more powerful message would be to work with our administration and take out the politics behind the event.
We felt that involving a political message in a school setting was not appropriate.
As a Republican and strong supporter of the Second Amendment, I could easily see how a political movement would cause more discord in our community than our intent. We wanted to bring people together, celebrate the lives we have while so many younger than us have lost theirs to gun violence.
We wanted to show our support for the students, staff, and families in Parkland who wouldn't be seeing their friends or sons and daughters again.
Our first meeting with members of administration was the Tuesday following February break. They expressed some of their concerns, some we hadn't thought about. We all decided to discuss some pros and cons among ourselves and meet again.
As we decided what to do with the 17 minutes that would not bring about chaos or anger, we kept discussing how this event shouldn't be political. The words "gun control" were not to be used, and they weren't. We agreed by remembering the victims, it would be more powerful, more focused on the real issue of students dying in schools.
It wasn't about trying to push Congress to pass legislation for gun control; people who believe in that change have the opportunity to express their opinions on March 24 at the March for Our Lives walk happening in many major cities, including Boston and Worcester.
Our Remembrance Walk was as simple as it sounds. There is no other way to say this wasn't a political event, other than "This wasn't a political event." I have heard from a few people who have argued that it was.
To them I want to say, "I'm sorry you think that. It was not the intent of the event nor was it ever stated that it was a political event." By mentioning the #Enough movement, our intent was to show how people across the country would be using the time to protest. If anything, our stance was to protest the protest. We wanted to bring people together, not set them against each other.
When we met again with our administrators they had heard from a small focus group consisting of students, parents, and teachers. We all, including the focus group, had the same idea of holding a walk, a nonpartisan event that people of all political beliefs could feel safe attending.
We weren't connecting ourselves with a political group other than to adopt some of their symbolic ideas, such as 17 minutes for the 17 lives lost in Parkland, hosting the event on the one month anniversary of the shooting, and having a silent walk for those who no longer have voices.
It was not about taking guns away. It was not about gun control.
It was about the students at Columbine, in Colorado, 19 years ago, the first graders in Newtown, Conn., six years ago, and it was about the high schoolers in Parkland a month ago.
Who wouldn't want to say enough is enough?
Leave a Comment
About the Contributor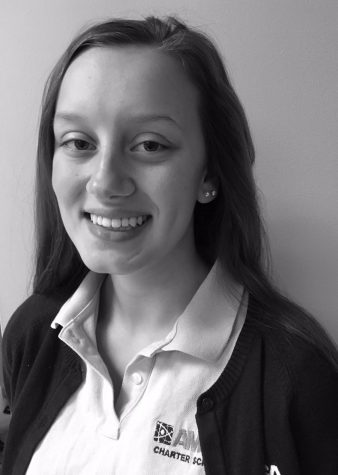 Amelia Marceau, Co-editor

Amelia is a senior. She has a great interest in writing and is excited to be a journalist and co-editor for the The AMSA Voice. Amelia has attended AMSA...