To high school athletes' joy, the fans are back to see them play
When Fore Kicks and Navin Arena in Marlborough announced that they were lifting their spectator restrictions at the end of January, winter athletes were relieved. Life, perhaps, could move toward "normal" as Covid cases decreased and mask mandates were lifted.
Crowds returned, and AMSA's basketball and hockey teams were back to feeling the support coming from the stands. The hockey team, which partners with Marlborough High School, has seen a spike in spectator interest — it enters the state playoffs the top seed in Division III and will face either North Quincy or Danvers at Navin Arena on Friday at 7:30 p.m.
"It's great to have the fans back," said Pete Jones, AMSA's athletics director. "The hockey games have had some great crowds, which is awesome because it definitely feels like we're getting back to normal."
A month and a half ago, however, it was uncertain whether fans would be able to attend any more games in person or if teams would be playing before empty bleachers for the rest of their seasons.
On Jan. 10, Fore Kicks announced that it was no longer allowing spectators at home basketball games, with the exception of senior parents at varsity games, due to the highly contagious Omicron variant. The AMSA/Marlborough hockey team also faced new spectator rules at Navin Arena: games were closed to the public, and only household members could attend.
These harsh restrictions were lifted after less than a month as Omicron burned bright and began fading away, and spectators have been permitted once again. But the sudden changes in Covid variants, infection rates, and government restrictions still have students bracing for the worst. 
In January, Covid cases among students and faculty reached a new peak. So, in the name of safety, the facilities used by AMSA athletics put spectator limitations in place as an attempt to reduce the spread.
Following the extremely popular 2021 fall sports season, it was a disappointing winter for athletes as they gave up crowds because of the pandemic. Although this sacrifice turned out to be temporary, at the time it was too reminiscent of the previous year for comfort.
Covid has been an issue for AMSA's sports programs for two calendar years, and the policies and regulations regarding the spread have constantly changed since all spring sports were wiped out in 2020.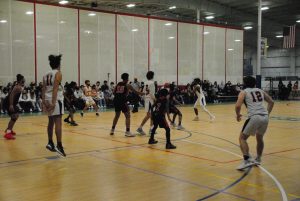 Mr. Jones described it as "devastating." Multiple promising sports teams were on the rise that spring — such as baseball, girls track and field, and girls tennis.
"Back then, nobody knew what Covid was," Mr. Jones said. "Given what we knew at the time, our reaction made sense, but looking back on it, it's almost more heartbreaking. The following school year proved that we actually can do athletics, with some precautions and protocols in place."
The athletic calendar was broken up into four seasons instead of three, and regulations were enacted to keep students and their families safe, including a ban on spectators for indoor sports. 
By the end of the 2021 spring season, students were finally able to participate in athletics without wearing masks and do it with their families watching in person.
"Maybe I was naive, but at that point, I kind of thought it was done," Mr. Jones said. "I knew there would be variants that complicated things, but I never really stopped to think about us being back in masks with spectator limitations this winter."
Despite setbacks, morale remained somewhat high. 
"I'm sure it was frustrating for the parents to not be able to watch their kids, and I'm sure it was frustrating for the students not to be able to watch their peers, but it's just what we had to do," Mr. Jones said. "We knew that it wasn't ideal, but having had the previous spring just wiped out, we had to get the kids playing."
That was the mantra for the entire school year. Though the limitations were just that — limiting — as long as student athletes were able to get back to their sports to some degree, that was enough.
"Our parents understand that we don't have control over Fore Kicks," Mr Jones said. "They know that whatever Fore Kicks decides is what we're going to have to abide by."
One thought kept everyone going: This will all eventually change.
"This is all temporary," Mr. Jones recalled thinking. "I think what we've seen with these variants is that they come and they go."
The course of the pandemic is too fluid and unpredictable to be entirely sure where sports will be regarding restrictions and precautions going forward. But everyone will enjoy this current situation while it lasts.
"It's open to the whole community again, and that's terrific," Mr. Jones said.
Leave a Comment
About the Contributor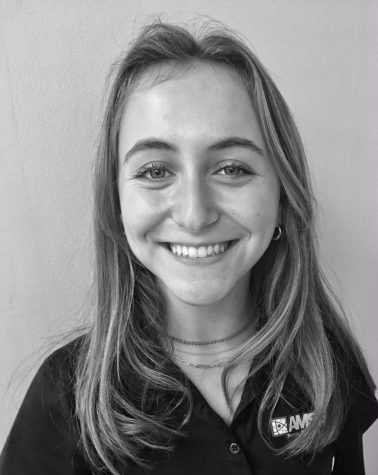 Catie Scott, Sports editor
Catie is a senior this year, and it is her first year as a writer for The AMSA Voice. She has attended AMSA since the 6th grade, and she is excited to...