Trump has taken the steps toward impeachment
President Donald Trump deserves to be impeached for firing FBI Director James Comey, who was leading the investigation into the relationship between Mr. Trump's staff and Russia during his presidential campaign.
Mr. Comey was dismissed as FBI director on May 9, supposedly for the way he handled Hillary Clinton's email/private server scandal. I guess the public was supposed to just forget about the fact that he also was in charge of investigating Mr. Trump's team.
Mr. Trump repeatedly praised Mr. Comey during the presidential campaign for the way he investigated Mrs. Clinton's email situation, particularly after he announced in the final two weeks of the race that the FBI was taking a closer look at new information–which reflected poorly on Mrs. Clinton and, some have argued, may have swung the election in Mr. Trump's favor.
It's suspicious that he would then fire him for that.
Two days after the firing, Mr. Trump seemed to openly admit to obstructing justice in an interview with NBC News anchor Lester Holt, which–if proved–would be an impeachable offense.
"When I decided to [fire Mr. Comey], I said to myself, You know, this Russia thing with Trump and Russia is a made-up story, it's an excuse by the Democrats for having lost an election that they should have won."
Mr. Trump fired the head of the FBI because he posed a threat to his presidency. He cannot be trusted to lead our government honestly and protect the ideals of the Constitution. He is a danger to our system of government.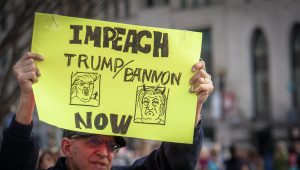 "While I greatly appreciate you informing me, on three separate occasions, that I am not under investigation, I nevertheless concur with the judgment of the Department of Justice that you are not able to effectively lead the Bureau," Mr. Trump wrote in his letter of termination to Mr. Comey.
On March 20, Mr. Comey confirmed the Trump-Russian investigation before Congress, yet Mr. Trump states that he has been informed three times that he is not under investigation. This poor attempt at parsing words (that Trump isn't personally under investigation at the moment, members of his team are) is diverting the public's attention away from the fact that Mr. Comey could, in the long run, have potentially exposed Mr. Trump for treason if the latter colluded with a foreign power to influence election results.
Mr. Trump also initially said he acted on the written recommendations of Attorney General Jeff Sessions and Deputy Attorney General Rod Rosenstein to fire Mr. Comey. Considering that Mr. Trump received those letters the morning of the firing, it has all the earmarks of a manufactured paper trail–a conclusion bolstered by Mr. Trump's own words when he told Mr. Holt that he planned to fire Mr. Comey with or without the support of his deputies.
The president has the right to fire the FBI director and appoint a new one; however, the fact that Mr. Comey had such potential influence over Mr. Trump's presidency adds to the suspicion that he has something to hide.
With the position now open, Mr. Trump has the power to appoint whoever he wants. It's hard to believe he can remain impartial in his decision and pick the candidate who wouldn't be easily kept quiet if need be.
Anyone who Mr. Trump appoints to fill the position will immediately come under public scrutiny. Add to that the strange details of Mr. Comey's fate and it might be difficult to find someone willing to take the job.
According to Mr. Comey, a week after Mr. Trump's inauguration he was invited to dinner with the president. Apparently the conversation started off with small talk and ended with Mr. Trump asking Mr. Comey to pledge his loyalty to him.
Mr. Comey refused to make the pledge and instead told him that he would always be honest. The White House disputes this account.
On May 12, Mr. Trump tweeted, "James Comey better hope that there are no 'tapes' of our conversations before he starts leaking to the press!" If Mr. Trump insists that no such conversation ever happened then he should not have to threaten Mr. Comey to get his silence.
It will be detrimental to our democratic society if Mr. Trump's new FBI director is willing to pledge his "loyalty" to Mr. Trump and succumb to every tweeted threat.
Mr. Comey's firing echoes elements of President Richard Nixon's Watergate scandal, such as when Mr. Nixon ordered the firing of Archibald Cox, the special prosecutor in charge of the investigation. Mr. Nixon's attorney general and deputy attorney general both refused to carry out the order, leading to their own resignations.
Inflaming an already surreal situation, Mr. Trump hosted two Russian officials in the Oval Office the day after Mr. Comey's firing, a meeting during which he shared highly confidential intelligence information provided, it later turned out, by Israel.
"President Trump boasted about highly classified intelligence in a meeting with the Russian foreign minister and ambassador last week, providing details that could expose the source of the information and the manner in which it was collected," reported The New York Times.
Mr. Trump took the oath of office just four months ago, but he already cannot be trusted to support and defend the Constitution and faithfully discharge the duties of that office.
The system of checks and balances in American government exist for a reason: to uphold the values of the Constitution and prevent abuses of power.
The American people need to be able to trust their government and their leaders. There needs to be transparency, not secrecy, something which Mr. Trump seems incapable of doing.
He has made himself untrustworthy.
About the Contributor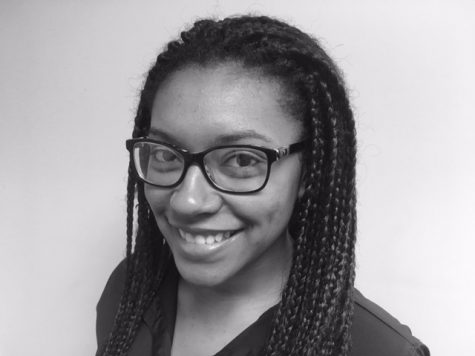 Coretta Granberry, Co-editor
Coretta is a senior and is in her second year writing for The AMSA Voice. Last year she served as the photo editor, and this year finds her as co-editor,...