A rivalry that forges connections instead of divisions
Even Red Sox fans and Yankees fans can be friends
Imagine walking into school one day after staying up late to watch the Red Sox win and hearing the familiar voice of Neil Diamond blasting over the loudspeaker singing "Sweet Caroline." Imagine also knowing that this silly celebratory behavior was being put on by the principal, of all people, not a senior playing a prank. Then you would be at AMSA, where Executive Director Dr. Anders Lewis and Principal Ellen Linzey have a friendly spring and autumn rivalry — Yankees vs. Red Sox.
Students are completely aware of the fun rivalry, and can see how well they get along — the two can always be found with smiles across their faces and laughing. Proof of their competition can be seen through friendly bets throughout the season. For example, if the Yankees lose, Dr. Lewis has to buy Mrs. Linzey Starbucks for a week and wear a Red Sox cap to school, and vice versa.
"But this time with the World Series I felt so sorry for him," Mrs. Linzey said jokingly. But Dr. Lewis added that she has been "rubbing in" the Red Sox's recent victory, especially after defeating the Yankees in the first round of playoffs. Both of them agreed that when the Red Sox and Yankees are pitted against each other the bets and mockery become more intense.
Both Dr. Lewis and Mrs. Linzey recall growing up watching and loving baseball. While Dr. Lewis grew up in Briarcliff Manor, north of New York City, Mrs. Linzey was raised in Brockton, a town in southeast Massachusetts. When they began working together a few years ago, there was little doubt that they would develop a playful rivalry.
"It's all in good humor and fun," Dr. Lewis said. "We want our students to see the school as a place of serious learning and academic achievement, but also a place they can be themselves and relax and enjoy life at AMSA."
The joking is always in good fun, and both Mrs. Linzey and Dr. Lewis hope that it makes them appear as more relatable people, just regular sports fans, rather than just important figures in administration. Along with their public and friendly rivalry, students can see the pair appearing together in fun informational videos or in the morning welcoming students to school. Dr. Lewis and Mrs. Linzey hope to be an example of people working together and making things fun with lighthearted personalities.
"I hope that that's an example that the kids, that the student body, will see and say 'Wow, they really care about each other they're doing hard work together all the time,'" Mrs. Linzey said. She also noted that they hope public jokes like this make them more approachable and open to having a good time, while also working hard to get things done.
"Having fun, appreciating sports, having hobbies outside of school, music, there's a balance in life and it's harder to be good at one thing unless you have that balance," Dr. Lewis said.
"I don't think that Yankees and Red Sox fans are always friends," Evan Scully, a freshman at AMSA, said with a laugh. It is important to know that Evan is a hard-core Yankees fan, often wearing a Yankees sweater to school. His statement, though, shows how Dr. Lewis and Mrs. Linzey have overcome the expectations based on traditional sports rivalries.
With their fun relationship and the way they conquered their disagreements of baseball prowess, the two have shown the school how forming solid relationships makes any environment a better and more enjoyable one.
Leave a Comment
About the Contributor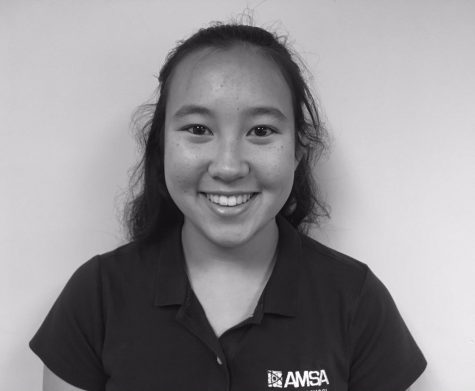 Kimsoo Gopnik, Photo editor
Kimsoo, who is from Maynard, is a freshman and has attended AMSA since 6th grade. She isn't quite sure what she wants to do with her life yet, but wants...