Candidates face off in record-setting debate
On Monday night, presidential candidates Hillary Clinton and Donald J. Trump went head-to-head in their first debate, an important milestone in a campaign that culminates in little more than a month but that has seemingly gone on forever.
According to preliminary figures reported by CNN, more than 84 million people watched the debate, making it the most watched debate ever in terms of raw viewers, eclipsing the first meeting between President Jimmy Carter and Ronald Reagan in 1980.
The incredibly high viewership and the campaign's ubiquitous presence on social media speak to the apparent interest in the result, which will determine the leader of the free world for the next four years.
The candidates, as they have throughout the past year, presented themselves as polar opposites.
Because both candidates have such low poll numbers when it comes to the issue of trust, multiple websites, including NPR.org, provided in-the-moment fact-checking, which updated continuously throughout the debate.
Among pundits, the consensus afterward was that Mrs. Clinton won the debate by a significant margin. She managed to portray a calm demeanor and appeared focused and prepared, while Mr. Trump took a more aggressive approach by speaking over both his opponent and the moderator, NBC News anchor Lester Holt.
Mrs. Clinton, who has been criticized for coming off as overly rehearsed and impersonal, was attacked at one point by Mr. Trump for staying out of the public eye over the past week while he campaigned across the Midwest.
"I think Donald just criticized me for preparing for this debate," Mrs. Clinton said. "You know what else I prepared for? I prepared to be president. And I think that's a good thing."
It was a high point for Mrs. Clinton, who controlled most of the final hour of the debate according to most pundits. Mr. Holt repeatedly corrected Mr. Trump, who said afterward that the moderator had been unfair with him.
Mr. Trump had particular difficulty in the debate's waning moments, such as when the topic of race was introduced. Mr. Trump suggested bringing back the policy of "stop and frisk," used in New York City but deemed unconstitutional by a federal district judge because it targeted young black and Latino men.
Mr. Holt, in the middle of Mr. Trump's response, reminded him that "the argument [against the policy] is that it's a form of racial profiling."
"No, the argument is that we had to take the guns away from these people that have them and that are bad people that shouldn't have them. These are felons and these are people that are bad people," Mr. Trump responded. "You have to have stop and frisk."
Mrs. Clinton, however, spoke about restoring trust between communities and the police, as well as enforcing stricter gun laws.
There has been much speculation about if and how this debate or the two that are scheduled to follow will actually impact the election. Polling, both nationally and in so-called "swing states," remains tight.
Even if their impact is minimal, they are important "because we normally get so few opportunities to meet the candidates and confront them with difficult questions," Max Frankel, a senior editor at The New York Times, was quoted as saying in that publication.
Leave a Comment
About the Contributor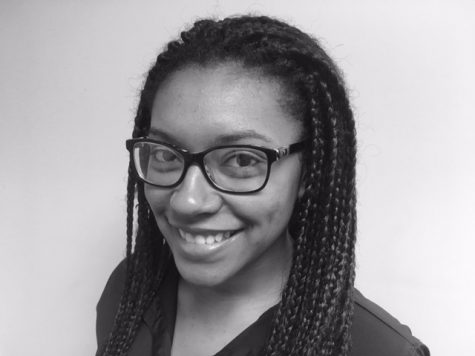 Coretta Granberry, Co-editor
Coretta is a senior and is in her second year writing for The AMSA Voice. Last year she served as the photo editor, and this year finds her as co-editor,...